Podcast: Play in new window | Download
Subscribe: RSS
The Gree are back for the next two weeks, and it seems they brought the inaugural Life Day event with them!
1. Introduction
Red has captured photographic evidence of the existence of the very hard-to-find beastie from Taris, the Rakghoul Overlord: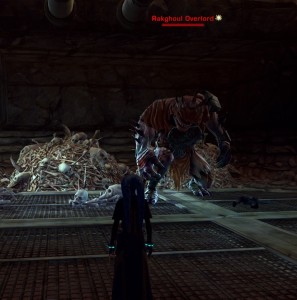 2. Tip of the week
Congratulations to this week's winner, Ryan Keogh (RSKeogh)!
Please send your tips to ootinicast@gmail.com by next Wednesday for a chance to win a Tawnfaun code, courtesy of BioWare, and an OotiniCast-provided Cartel Market pack from the latest shipment.
3. Holofeed
It was clarified why the Gree currency is bound to a player, rather than legacy-wide or tradeable.
4. Community
Kal sent us the following screenshot of the Ootini Templars operations team just "camping out in Dread Palace":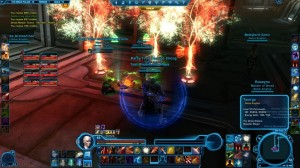 Kuze is back with a new Kuze's Korner, reviewing the MSE-6 ability tracker. We particularly recommend Kuze's Platforming Guide, recently endorsed by Sema of the SWTOR Escape Pod Cast.
We have developed the Crew Calculator to help players choose the optimal crew for each of their Galactic Starfighters!
5. Force Feedback
We discuss tweets from @TheMalgadar, @jeffyjaws (Jeff Brennan), @JRO_Mosqueito (Mosq), @BillLentz, @GregCarter78, @TheTurg, @O_JohnnyBravo_O, @Strongshocker, @joseph_foran, @Talionbot, @foehammer75 (Les), @rondowar (Rondo), @DaveO_NewWaveO, @PedroLopezJr and @JediKal, and emails and comments from Tegryn Bloodrunner, 01MAN, AmonRe, thetrippster, Tarkko/Praefecti and Dekarch.
For beginners wanting to learn more about PvP, there are old episodes of our show which focus on the mechanics of the various warzones, including episode 43 (Chong's first appearance), episode 56 (PvP after Game Update 1.5) and episode 57 (mechanics of Ancient Hypergate). The New Player's Guide to PvP on the official forums is also well worth reading.
Here is Mosq's bizarre neo-3D experience: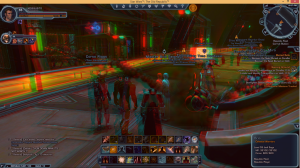 Our guildmate and fellow raider Bill proves his financial mastery with the accumulation of over 100,000,000 credits: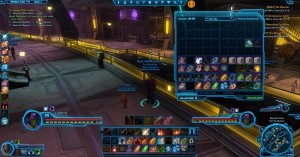 6. Outro
Thanks to Redna (@R3DN4, twitch.tv/r3dn4) for joining us this week.
Information about our guilds on The Harbinger, Ootini Knights (Republic) and Ootini Rage (Empire), can be found here.
You can email questions and comments about the show to ootinicast@gmail.com. Follow us on Twitter via @OotiniCast. Check out our website, ootinicast.com, which has links to our presence on Google+ and Facebook. You can subscribe to us on iTunes and Zune, and listen to us on Stitcher and Radio4Gamers.