Podcast: Play in new window | Download
Subscribe: RSS
Lots of news this week, including yet more class changes in Game Update 2.7 and some clarifications related to Ranked PvP Season 1's reward system. Then returning guest Bill has yet more advice on enhancing your credit balance.
1. Introduction
2. Tip of the week
Congratulations to this week's winner, Adam Schumpert! Adam has previously created some wonderful art for us, such as our Ootini Knights guild logo: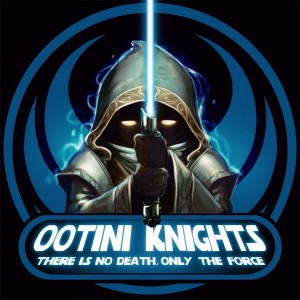 Please send your tips to ootinicast@gmail.com by next Wednesday for a chance to win a Tawnfaun code, courtesy of BioWare, and an OotiniCast-provided Cartel Market pack from the latest shipment.
3. Holofeed
4. Community
The Galactic Gamers Coalition's inaugural episode is available! The RSS feed with GCC episodes is here, and it should be in iTunes shortly.
The Aequitas Vox guild on The Bastion (Republic-side) are recruiting new members for their progression Hard Mode groups. They're also on Twitter (@AequitasVoxTOR).
PvP specialist Jacob has created another guide, this one about how to gear for Ranked arenas.
Kuze has produced a video tutorial of the MSE-6 Ability Tracker, which he reviewed in Kuze's Korner in episode 112.
Much fun was had by all who attended the Ootini meet-up in Las Vegas on the weekend! You can find Heather has authored a most complete summary of the event in her blog post "Hanging out with OotiniCast in Las Vegas".
5. Force Feedback
We discuss tweets, emails and comments from @PadmeAm, @Rrubb, @ben_b55, Tarkko/Praefecti, @darksplat, @O_JohnnyBravo_O, @badfeelingpdcst, Raz (@masterbearjedi), Terg (@TheTurg), @jeffyjaws, @GregCarter78, @Blackloch, Chaz Lobo (@Strongshocker), @RPGbeatsRL, James Jubb (@OrdooSkirata), Thomas Midena (@Thoroughmas) and Jacob (@deltiasgaming).
@jeffyjaws spotted what appears to be a Nostromo in the recently released Ender's Game movie:
@Thoroughmas likes the look of gear with reflective surfaces:
6. Sarlacc Digest
Bill is back with more credit-making advice.
7. Outro
Thanks to Bill (@BillLentz) and Redna (@R3DN4, twitch.tv/r3dn4) for joining us this week.
Information about our guilds on The Harbinger, Ootini Knights (Republic) and Ootini Rage (Empire), can be found here.
You can email questions and comments about the show to ootinicast@gmail.com. Follow us on Twitter via @OotiniCast. Check out our website, ootinicast.com, which has links to our presence on Google+ and Facebook. You can subscribe to us on iTunes, and listen to us on Stitcher.