Podcast: Play in new window | Download
Subscribe: RSS
Chill and Teo are joined by PvP veterans Redna and Chong to discuss the state of PvP as of Game Update 1.5, with lots of handy tips and tricks for doing well in the current four warzones.
1. Introduction
2. Trivia question
Congratulations to this week's winner, Christian S!
3. The Holofeed
Patch 1.5.2 was deployed during regular maintenance on Tuesday.
Another livestream Q&A was held on Thursday, where Jeff Hickman and Damion Schubert answered questions from the community posed by Joveth Gonzalez. Dulfy has posted a summary, transcript and video.
In a developer blog titled "The Importance of Player Feedback with the New Free-to-Play Option", Jeff Hickman announced that Preferred players would be getting 4 quickslot bars (up from 2), 6 account-wide character slots (up from 2), and that the current limit of 50 characters account-wide for subscribers would be drastically increased.
4. Force Feedback
We discuss tweets from @JediAio (Aio), @ForceChuckle, @JediTChalla (T'Challa), @voyak, @KairiahMedens, @rbleamon (Ray Leamon), @StoleTarts (Megan), @EmpireDivider (Chong) and @BillLentz.
@Ryan_B1313 wonders whether the following two NPCs were added to the Imperial Fleet in Game Update 1.5, or whether they've been there all along: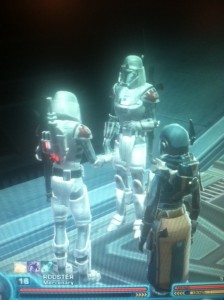 Our guildmate Terg models his latest look, which he has dubbed "cyborg samurai":
We also read an email from Wolfgangamadeus (a.k.a. Fritzdourdan, Hangsgruber and Karlurban) of the Ebon Hawk.
5. Sarlacc Digest
In a wide-ranging discussion, we discuss the state of PvP in Game Update 1.5, leading into some recommended tactics for the four warzones (using the Reddit /r/swtor thread "Warzone education/discussion" as a starting point).
Next week, we'll continue the PvP focus with a look at Ancient Hypergate, the new warzone coming in Game Update 1.6.
6. Outro
Thanks to Redna (@RystoJ) and Chong (@EmpireDivider) for joining us this week.
You can email questions and comments about the show to ootinicast@gmail.com. Follow us on Twitter via @OotiniCast. Check out our website, ootinicast.com, which has links to our presence on Google+ and Facebook. We are a proud member of the TOR Syndicate! You can subscribe to us on iTunes and Zune, and listen to us on Stitcher.