Podcast: Play in new window | Download
Subscribe: RSS
As the Life Day holiday approaches, there's not much happening… well, aside from Galactic Starfighter! We discuss what we've learned so far, and provide some tips and tricks for all you budding pilots.
1. Introduction
Red discovered that to search for Cartel Market items for Galactic Starfighter being sold on the GTN, you need to set the category to "Starship Upgrade", and the upper bound of the "Required Level" to 1, as shown below: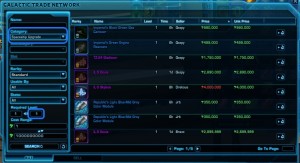 If you only want to see starfighter unlocks, set the category to "Artifact" (purple).
Red also encourages the community who are into achievement hunting to get themselves added to the forum-based achievement leaderboard (thanks to BenB of the Empire-side guild Despair on The Harbinger for letting Red know).
2. Tip of the week
Congratulations to this week's winner, Darklighter!
Manciferous referenced this list of companion gifts.
Please send your tips to ootinicast@gmail.com by next Wednesday for a chance to win a Tawnfaun code, courtesy of BioWare, and an OotiniCast-provided Cartel Market pack from the latest shipment.
3. Holofeed
Patch 2.5a was deployed during a short maintenance on Tuesday. This included a fix to the issue that required players to repurchase all ranks of an ability when reaching a level when a new rank should be available for that ability, and for various daily-related achievements that had temporarily disappeared.
Along with the patch, Life Day items were once again made available on the Cartel Market.
There was an issue introduced with Game Update 2.5 that appears to be specific to those with some ATI video cards. BioWare is working hard to fix it, and while it didn't make 2.5a, the issue was subsequently resolved in Patch 2.5b.
Some Galactic Starfighter clarifications were provided, including:
Late last week, BioWare streamed members of their community and development team playing Galactic Starfighter on their Twitch channel for over 3 hours. You can watch the archived broadcast in two parts (part 1, part 2).
To celebrate SWTOR's second anniversary on 20 December, BioWare is after "My SWTOR Saga" screenshots from players, capturing what they love about the game. Some will be featured on SWTOR's Facebook page.
4. Community
While we always recommend JD's (Gaddock Teeg) Unnamed SWTOR Podcast, episode 25 "Five point plan to saved Ranked" is particularly good!
Asros's TOROCast article "Galactic Starfighter: Did it Stay on Target" is well worth reading.
5. Force Feedback
We discuss tweets from @BlazeofCory (Cory Butler), @JediKrackr, @GregCarter78, @bytorsnowdog (Snowy), @ThePummeler, and emails and comments from Jacob, Kingsleyy and Tyserian.
6. Sarlacc Digest
Our discussion topic was tips and tricks for Galactic Starfighter. We reference Dulfy's SWTOR Galactic Starfighter Medals list and Cosmic's Top Five Galactic Starfighter Tips.
Thanks to Eric, @Dekarch, @Makinmoves, @EmpireDivider (Chong), Darklighter, Irahs, @JediKal and @TheTurg (Terg) for contributing their questions, tips and comments.
Here's Chong awesome screenshot of him going head-to-head in an unintentional standoff: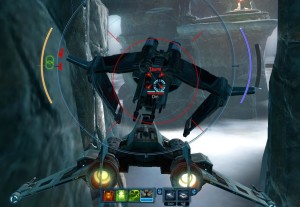 7. Outro
Thanks to Redna (@R3DN4, twitch.tv/r3dn4) for joining us this week.
Information about our guilds on The Harbinger, Ootini Knights (Republic) and Ootini Rage (Empire), can be found here.
You can email questions and comments about the show to ootinicast@gmail.com. Follow us on Twitter via @OotiniCast. Check out our website, ootinicast.com, which has links to our presence on Google+ and Facebook. We are a proud member of the TOR Syndicate! You can subscribe to us on iTunes and Zune, and listen to us on Stitcher and Radio4Gamers.