Podcast: Play in new window | Download
Subscribe: RSS
Game Update 2.5 is here, granting early access to Galactic Starfighter. Lock S-foils in attack position!
1. Introduction
Redna clarifies the name of the Android app he recommended last week: Viral Floating Youtube Popup.
2. Tip of the week
Congratulations to this week's winner, Mark!
Please send your tips to ootinicast@gmail.com by next Wednesday for a chance to win a Tawnfaun code, courtesy of BioWare, and an OotiniCast-provided Cartel Market pack from the latest shipment.
3. Holofeed
4. Community
Kal gives us some insight into the detailed planning that goes into an Ootini Templars operation: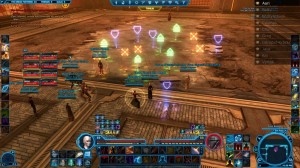 The Empire-side guild Despair on The Harbinger is looking for raiders to join their operations group. See this forum post for more information.
5. Force Feedback
We discuss tweets from @Geldarion, @TheTurg, @Jazzycaty (Pliskiin), @fnord3125 (Brian Peters), @JediKal, @TheMalgadar, @thehatfield, @Lawilc01 (Laurie M), @ForceChuckle, @AuramAlexander, @masterbearjedi, @Manciferous and @JediKrackr, and emails and comments from Carnz, Decurion, Narq, Youltar, Darth Kenji, Greg Carter (a.k.a. Evewyn), Mark S, Nathaniel Starr, Kal, Kingsleyy, Michael Sawyer, Ilmar, Oxi-jin, Morriah, TREaltoholic and Thundergod.
@AuramAlexander recommends the video guides provided by the OSWguild from The Harbinger, which you can find on YouTube here (follow them on Twitter via @OSWguild).
Darth Kenji offers yet more proof that day/night cycles are indeed possible!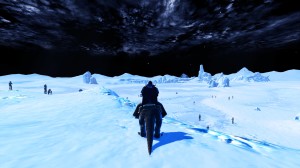 Geldarion (a.k.a. Drew, co-host of Corellian Run Radio) penned a poem on the eve of Game Update 2.5's deployment. He also sent us this screenshot of the new recruiting poster on Coruscant for Galactic Starfighter (the Aurebesh reads "Protect the Republic, become a starfighter pilot"):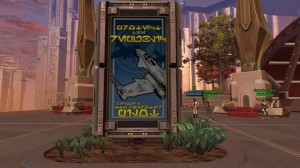 Here is another cyborg Imperial Agent, this one from Mark S: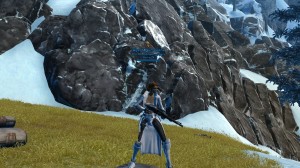 6. Outro
Thanks to Hyp (@Hypknotoad) and Redna (@R3DN4, twitch.tv/r3dn4) for joining us this week.
Information about our guilds on The Harbinger, Ootini Knights (Republic) and Ootini Rage (Empire), can be found here.
You can email questions and comments about the show to ootinicast@gmail.com. Follow us on Twitter via @OotiniCast. Check out our website, ootinicast.com, which has links to our presence on Google+ and Facebook. We are a proud member of the TOR Syndicate! You can subscribe to us on iTunes and Zune, and listen to us on Stitcher and Radio4Gamers.