Podcast: Play in new window | Download
Subscribe: RSS
We cover a broad range of topics in the week before Galactic Starfighter comes out of hyperspace with Game Update 2.5 on 3 December, including our plans for leveling during double XP over the Thanksgiving holiday.
1. Introduction
Redna recommends the Android app Viral Floating Youtube Popup.
If you'd like to own the "Jawa Droid Sales" t-shirt which Teo obtained last time it was available, vote here at Qwertee.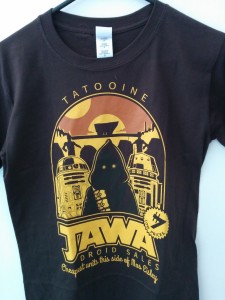 Meet Highball Chong, the Moff's new character to level during double XP:
2. Tip of the week
Congratulations to this week's winner, Longbow!
BenB offers the following as proof that a level 10 could gain access to Speeder Piloting 3 by purchasing only that Legacy unlock using Cartel Coins:
Please send your tips to ootinicast@gmail.com by next Wednesday for a chance to win a Tawnfaun code, courtesy of BioWare, and an OotiniCast-provided Cartel Market pack from the latest shipment.
3. Holofeed
4. Community
Evewyn's PvP Advice references a forum thread on understanding SWTOR's resolve system, and a developer update about the changes made to it in Game Update 1.4.
In response to Madmar (also known as @Swtorfamily) needing to move SWTOR from his existing computer to his new gaming rig, Teo authored this guide on the process.
If you're interested in how things are shaping up for ranked PvP in Season 1, you may find Teo's leaderboard analysis tool useful!
Missandei of the Tomb of Freedon Nadd server has created a most concise visual guide on the crafting bonuses provided by all companions.
5. Force Feedback
We discuss tweets from @bytorsnowdog (Snowy), @Enyonix, @heymason12 (Hash), @JoshuaLynch125 (Codex), @masterbearjedi (Raz), @Adam_Schumpert, @Darklighter159, @GTeeg (Gaddock Teeg, a.k.a. JD of the Unnamed SWTOR Podcast), @MaraJade5233, @Lawilc01 (Laurie M), @ForceChuckle, @TheTurg (Terg), @EmpireDivider (Moff Chong), @FerrousTerran, @Strongshocker (Chaz Lobo), @GregCarter78, @fnord3125 (Brian Peters) and @TheMalgadar, and emails and comments from Chris, Jacob and Socordia.
Snowy's droid look:
Adam Schumpert's Wookie illustration that appears (fittingly) on Wookiepedia:
6. Sarlacc Digest
We briefly (due to time constraints) answered some questions about Galactic Starfighter. For more information (in fact, all you could possibly want to know!), we once again recommend Dulfy's various guides about the expansion:
7. Outro
Thanks to Moff Chong (@EmpireDivider) and Redna (@R3DN4, twitch.tv/r3dn4) for joining us this week.
Information about our guilds on The Harbinger, Ootini Knights (Republic) and Ootini Rage (Empire), can be found here.
You can email questions and comments about the show to ootinicast@gmail.com. Follow us on Twitter via @OotiniCast. Check out our website, ootinicast.com, which has links to our presence on Google+ and Facebook. You can subscribe to us on iTunes, and listen to us on Stitcher and Radio4Gamers.