Podcast: Play in new window | Download
Subscribe: RSS
There's lots of news this week, including the Shadow of Revan press event, the Rakghouls return, participation in Ranked PvP Season 3, and much more.
1. Introduction
Charlie (Kranitoko) has started his Krandom series, where he amalgamates the introductions from his Hypercrate opening videos. The first has the introductions for the Starfighter Pack openings.
He also attended London Comic Con:
2. Tip of the week
Congratulations to this week's winner, Taralma of the Old Republic Dads guild on The Shadowlands! Thanks to Billyando and Yajard for entering.
Please send your tips to ootinicast@gmail.com by next Wednesday for a chance to win an M8-R3 code, courtesy of BioWare, and an OotiniCast-provided Cartel Market pack from the latest shipment.
3. Holofeed
4. Community
Our guildmate @HamSammich is resurrecting the Ootini Templars! To find out more, see his post on our forums.
Augustuz of www.mattbrady.tk has offered to do comics for some of our upcoming episodes. He created these awesome wallpapers; this is Teo's favourite: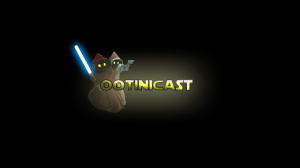 He also created the following comic for our recent spoilercast: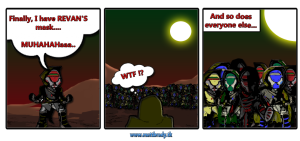 To find out the latest details about our Ootini Cantina being held on Saturday 8 November, please visit ootinicast.com/cantina.
5. Force Feedback
Terg sent us the following to show the difference between previewing and actually wearing the Rakghoul event gear: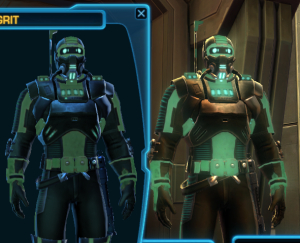 The adventures of Boss'Chong continue! Here he is on Harbinger patrol:
In Chong's words, "When Boss'Chong gets wounded, he cauterizes it with a FLAMETHROWER! He is the BOSS!":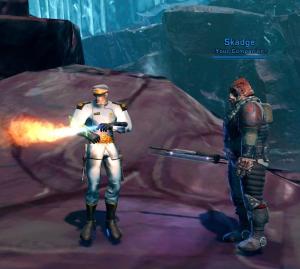 6. Outro
Thanks to Charlie (@Kranitoko, YouTube channel) and Redna (@R3DN4, twitch.tv/r3dn4) for joining us this week.
Information about our guilds on The Harbinger, Ootini Knights (Republic) and Ootini Rage (Empire), can be found here.
You can email questions and comments about the show to ootinicast@gmail.com. Follow us on Twitter via @OotiniCast. Check out our website, ootinicast.com, which has links to our presence on Google+ and Facebook. You can subscribe to us on iTunes, and listen to us on Stitcher and Spreaker. We record the show live every Wednesday at 4:30pm Pacific, goto ootinicast.com/live to find out how to join in!