Podcast: Play in new window | Download
Subscribe: RSS
A quiet week, but we still find plenty to talk about, including Patch 2.10.2a, the rewards for Ranked PvP Season 3, and last week's livestream discussing the combat changes coming in Game Update 3.0.
1. Introduction
2. Tip of the week
Congratulations to this week's winner, Vescent! Thanks to Topps, Sabo, T'chuk, Bara-dur and Mariachi for entering.
Please send your tips to ootinicast@gmail.com by next Wednesday for a chance to win an M8-R3 code, courtesy of BioWare, and an OotiniCast-provided Cartel Market pack from the latest shipment.
3. Holofeed
4. Community
Thanks to Justin for his most generous donation! We will indeed have drinks in your honour, sir.
If you want to find out more about @HamSammich509's Jawa Junk Yard, see his thread on our forums.
To help provide a little Cartel Pack purchasing money for the show, please shop at Amazon by going to ootinicast.com/amazon.
If you feel moved to give us a review on iTunes, which would help new listeners find our show, you can do so by following ootinicast.com/itunes.
To find out more about our Ootini Cantina, goto ootinicast.com/cantina.
5. Force Feedback
We discuss tweets, emails and comments from Jay Connell, Mark Natress, Catalyst, Hru, Ray Leamon, Justin, @fnord3125, Christopher S, Terg, Lee (@Viperous87), Bearyman and Ben Jacobson.
While it is apparently possible to purchase the 14,500 Cartel Coin bundle on the official site and in-game for $US99, it isn't working for Teo. Bearyman sent us the following showing how it should look from in-game: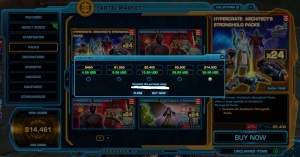 6. Outro
Thanks to Redna (@R3DN4, twitch.tv/r3dn4) for joining us this week.
Information about our guilds on The Harbinger, Ootini Knights (Republic) and Ootini Rage (Empire), can be found here.
You can email questions and comments about the show to ootinicast@gmail.com. Follow us on Twitter via @OotiniCast. Check out our website, ootinicast.com, which has links to our presence on Google+ and Facebook. You can subscribe to us on iTunes, and listen to us on Stitcher and Spreaker. We record the show live every Wednesday at 4:30pm Pacific, goto ootinicast.com/live to find out how to join in!