Podcast: Play in new window | Download
Subscribe: RSS
We discuss some of the content coming in Game Update 2.1: Customization, along with a quick guide to two level 55 hard modes, Athiss and Cademimu.
1. Introduction
Hyp's Marauder certainly hasn't been getting much beauty sleep.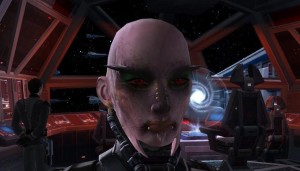 Speaking of beauty, Hyp's Scoundrel, Pearlneck, has a new look.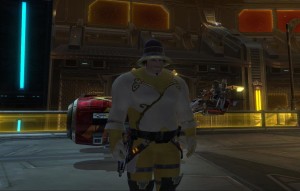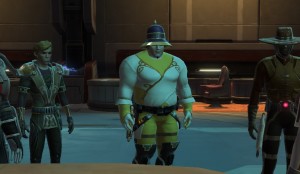 2. Trivia Question
This week's question is all about New Hollywood. New Hollywood is a period of moviemaking from the mid-60s to the very early 80s. It is usually marked as beginning with "Bonnie and Clyde", a surprising hit of a movie where the main characters die, and ends with the overpriced flops "Heaven's Gate" and "One from the Heart".
New Hollywood was marked by a period of time where filmmakers were still part of the studio process, but allowed greater freedom. So they were a mix of the two things we have today—generally big-budget movies with tight studio control and smaller indie films with low budgets but tons of creative freedom. The occasional big-budget movie with filmmaker control, like Peter Jackson's "Lord of the Rings" movies, can be seen as a product of this time.
New Hollywood proved that movies could be big successes without being cookie-cutter films, like the musicals, war movies, and horse operas of the 50s and early 60s. They also legitimized the sequel with the critical and successful "Godfather Part II," brought us the summer blockbuster with "Jaws," and showed that fantasy and sci-fi could have wide audience appeal with "Star Wars."
Of course, their successes sowed the seeds of the movement's failure; more money was thrown their way, which both increased the risk if a movie was a flop, and caused the studios to demand more control over their big bets.
But what made New Hollywood really successful was that this was the first generation of moviemakers who had grown up watching movies. They loved movies and they knew movies. They put references to great earlier movies in their movies, both as a nod to films they loved and also quite frankly to uplift their own films.
Now, we've used the Trivia Question to explore Lucas's influences before. So let's set aside the movies of Kurosawa. But let's find as many other examples as we can of famous movie scenes being referenced, either in dialogue, shot selection etc. in the six "Star Wars" movies.
I'll get you started. (This example won't count.) The famous Greedo cantina scene is a reference to the wonderful western "The Good, the Bad and the Ugly", where Tuco is caught by an armed man who has been hunting him. He is in the bath, apparently unarmed, and his hunter waves his pistol in his face and gloats over how happy he is to have caught him. But then Tuco, or Han, fires a hidden pistol and kills his opponent. While Han's scene has become known as "Han Shot First", Tuco's line at the end of his scene is appropriate to both: "When you have to shoot, shoot! Don't talk".
Please send your answer to ootinicast@gmail.com. Whoever gets the most references to earlier movies by next Wednesday will be put in a drawing to win a Taun Fawn code courtesy of BioWare and one of the latest full-size Cartel Packs (or if you're on The Harbinger, a very special mount!).
3. Holofeed
4. Community
We recommend hawtpantsrepublic.com, which includes a most excellent guide for Sentinels updated for Game Update 2.0. You can follow the site's author via @HawtRepublic on Twitter.
Our guildmate Krad highly recommends Geldarion's various posts about Gunslingers. Probably best to start with his Gunslinger/Sniper Advanced Class Guide.
Kuze is working on his instructional video on platforming, you can find his existing guides in Kuze's Korner.
For those interested in joining Ootini Fight Club for some endgame PvP, please contact Chong by email (empiredivider@gmail.com).
5. Force Feedback
We discuss tweets from @madmar_sith (be sure to follow him back to join the #swtorfamily!), @heymason12, @Rrubb, @HamSammich509, @TheTurg (Terg), @roguish98 (Matt Roberts), @EmpireDivider (Moff Chong), @YojeVawree, @weihanthekidsun (Weihan Sun), @MrSteveVoss, @KairiahMedens (David), @ChazLobo, @terencemyers, @JediKrackr, @Lawilc01 (Laurie M), @rocketman003 (Ki'el), @ForceChuckle, @Watchman_Marek, @voyak, @tshapedvisor, @Geldarion (co-host of Corellian Run Radio), @rclemons1977 (Brian Clemons), and emails from Jacob Hausman, @1BigBore (Bill), Graham S and Neiro.
The Pearlneck lookalike spotted by Terg:
And the one I spotted:
Graham S recommends the Mad Katz S.T.R.I.K.E. 7: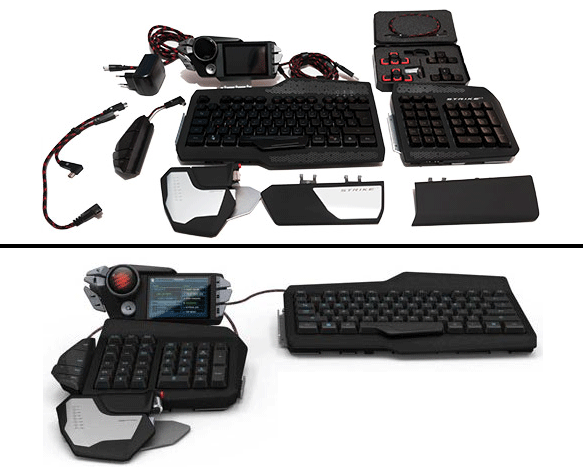 6. Sarlacc Digest
We cover two of the level 55 hard mode Flashpoints, Athiss and Cademimu, leaving Mandalorian Raiders and Hammer Station for next week.
Athiss (Dulfy's guide)
you can slice the elevator at the beginning to avoid fall damage
grab the explosives from the room to the left of where you come in if no one in the group has Archaeology

Professor Ley'arsha (woman with adds)

tank face away from group

tank moves away with purple circle to drop corruption away from melee

DPS kill adds (normals) when they periodically turn up

The Beast of Vodal Kressh (big dog)

adds appear at 75%/50%/25% of boss health; tank needs to pick them up
huge knockback/stun, so tank with back to wall
DPS needs to kill the adds ASAP
can avoid extra adds by fighting boss near pond on the way to the boss

Ancient Abomination (bonus boss)

tank in alcove behind boss
DPS and healer sit on boss's behind, AoE heal periodic damage from knockback
interruptible ability after each knockback

Prophet of Vodal (guy with the fires)

move out of small purple circles (note that they stick around for some time)
healer needs to cleanse the corruption DoT as soon as possible (hits really hard)
when boss stealths, a random party member will get a flaming effect on them, and four fire adds will spawn and chase that player; they need to kite the flames until they disappear

click on the altar to complete the Flashpoint
Cademimu (Dulfy's guide)
crew skill shortcuts: gate (Scavenging) and shuttle (Slicing)

Officer Xander (guy with the EN-4C droid)

when activated, droid will slowly move towards randomly selected player; will switch players over time
need to kite droid into trap (circle on ground), without any player themselves getting trapped
when the droid is trapped, kill it (droid won't take damage otherwise)
player targeted with large blue circle needs to move away from the group until it explodes (to avoid damaging anyone else)

Captain Grimyk (Wookie captain)

tank faces him away from group because of his flamethrower
adds (Ugnaughts) must be brought into the flamethrower before they can be damaged

Sith Separatist (bonus boss)

periodically pulls everyone in and does massive AoE; need to run out as soon as it happens
random player will take big hit (healers needs to keep everyone's health topped off)
healer and ranged can usually find something to stand behind so they don't get pulled in while still maintaining line of site

General Ortol (rocket guy with the shackles)

initially two and then three quarters of the room will be uninhabitable as the rocket engines above fire; group needs to move to the safe area
each time it changes, the soon-to-be-dangerous quarters fill with steam
a random player will be periodically shackled, along with anyone close to them; someone else needs to run through them to break the shackle
boss does a knockback, so tank/fight in a corner of the safe quarter of the room
2.0.1 bug: additional players shackled by being too close to the shackle's targeted player cannot be freed; so melee and tank need to stay a bit spread out (can still be in melee range)
7. Outro
Thanks to Redna (@RystoJ) and Hyp (@Hypknotoad) for joining us this week.
Information about our guilds on The Harbinger, Ootini Knights (Republic) and Ootini Rage (Empire), can be found here.
You can email questions and comments about the show to ootinicast@gmail.com. Follow us on Twitter via @OotiniCast. Check out our website, ootinicast.com, which has links to our presence on Google+ and Facebook. We are a proud member of the TOR Syndicate! You can subscribe to us on iTunes and Zune, and listen to us on Stitcher and Radio Paragon.