Podcast: Play in new window | Download
Subscribe: RSS
This week it's all about the newly-released Game Update 2.2, along with the recent Livestream and the various hints about what's coming up in the Summer of SWTOR.
1. Introduction
Hyp found a most appropriate location for a portrait of his Scoundrel, Pearlneck: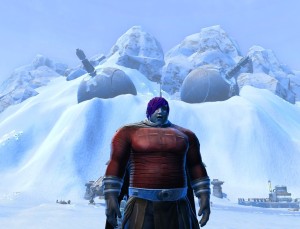 2. Tip of the week
Congratulations to this week's winner, Oxi-jin!
We find Dulfy's Companion Gifts and Crafting bonuses for 1.2 guide extremely useful when attempting to win the affection of our companions (still valid as of Game Update 2.2).
3. Holofeed
4. Community
For both beginning and experienced datacron hunters, you'll find some handy tips and tricks in Kuze's instructional video on platforming, one of the many great guides in Kuze's Korner.
If you are looking for some serious Star Wars roleplaying, we once again recommend Clan Epsis, a Mandalorian bounty hunter guild on the Jung Ma server (RP-PvP, US east coast).
Old Republic Radio, one of the longest-running SWTOR podcasts, is still out there, now over on MOG Nation (subscribe via iTunes or RSS).
For those interested in joining Ootini Fight Club for some endgame PvP, please contact Chong by email (empiredivider@gmail.com).
5. Force Feedback
We discuss tweets from @madmar_sith (be sure to follow him back to join the #swtorfamily!), @blinkwise (Rory), @Dimbo56 (SWTOR Mayor), @Gaerrar, @ThePummeler, @Enyonix (Xusin Legacy), @ChazLobo, @GregCarter78, @JediKrackr, @masterbearjedi (Raz), @EmpireDivider (Moff Chong) and @TheTurg (Terg), emails from Firebird, DJ Zod and Droid Dreamer, and a comment from Andrew.
Moff Chong demonstrates an utter lack of measurable output in Ancient Hypergate, while still garnering 5 medals: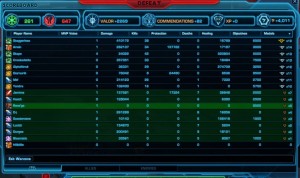 Terg and a Hutt have a moment:
ForceChuckle showcases some SWTOR Lego, a great accompaniment to our site!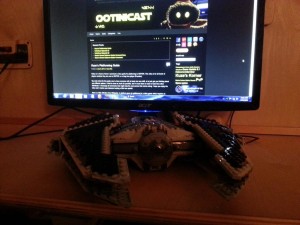 Moff Chong and Ham Sammich model the GSI speeder: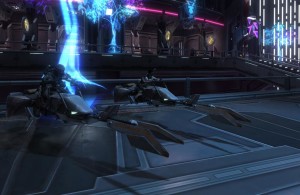 Chaz Lobo shows that even a Dark Lord of the Sith can get pissy: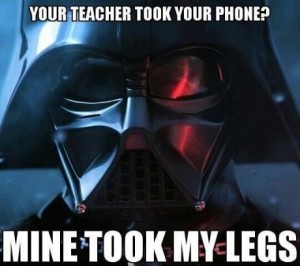 6. Outro
Thanks to Redna (@R3DN4) and Hyp (@Hypknotoad) for joining us this week.
Information about our guilds on The Harbinger, Ootini Knights (Republic) and Ootini Rage (Empire), can be found here.
You can email questions and comments about the show to ootinicast@gmail.com. Follow us on Twitter via @OotiniCast. Check out our website, ootinicast.com, which has links to our presence on Google+ and Facebook. We are a proud member of the TOR Syndicate! You can subscribe to us on iTunes and Zune, and listen to us on Stitcher and Radio Paragon.