Podcast: Play in new window | Download
Subscribe: RSS
The news this week is all about Game Update 2.0.1. We then discuss gaming peripherals, based on some insightful information and suggestions from our listeners.
1. Introduction
Hyp is quite taken with our guildmate Ry's space cowboy hat: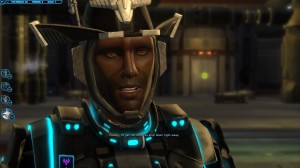 Teo was a guest on The Oceanic Gamer's Flash Point podcast (episode 55). Thanks to David and Simon for the opportunity!
2. Trivia Question
Congratulations to this week's winner, Joey Weaver!
3. The Holofeed
Game Update 2.0.1 was deployed during maintenance on Wednesday morning. It had been delayed due to a bug that had to be addressed before it could go live.
The second pack on Shipment 2, the Vice Commandant's Contraband Pack, is now available.
BioWare clarified that Covered Escape does not release a Sniper from roots/snares, as these are not considered "movement-impairing effects".
While there are a few updates to crew skills in 2.0.1, Amber Green summarises the remaining known issues.
The level 55 hard mode version of Cademimu now has a bug in its last encounter: the shackles (new to hard mode).
In response to concerns that some warzones seem to be turning up more often than others, BioWare investigated and confirmed that what's popping is truly random, as intended.
An undocumented feature, that it turns out wasn't ready to be revealed, was discovered in 2.0.1: when you whisper an offline character, the player will still receive the whisper if they're logged in on another character of the same faction.
More concerns were addressed for those having problems with the one-time password system, including a late-breaking hot fix for a delay in delivering the mail containing the one-time password.
Dulfy has an excellent guide on obtaining the GSI speeders, though BioWare advises that some components for those speeders are apparently not yet available.
Austin Peckenpaugh, Senior Designer, has done a series of blog posts about the class changes in 2.0:
4. Community
Thanks to Mark Emery for his most generous donation!
William Keele (@DarthKenji) has his latest Lesson from the Holocron for your edification, all about Jawas: "Freaky Little Hooded Creatures".
For those interested in joining Ootini Fight Club for some endgame PvP, please contact Chong by email (empiredivider@gmail.com).
From Kuze's Korner, we have Datacron video guides for the four starter planets:
5. Force Feedback
We discuss tweets from @madmar_sith (be sure to follow him back to join the #swtorfamily!), @voyak, @rbleamon (Ray Leamon), @StoleTarts (Megan), @ForceChuckle, @GregCarter78, @O_JohnnyBravo_O (JB), @EmpireDivider (Chong), @HamSammich509, @dingwog, @JediKrackr, @TheTurg, @BenAKenobi, @Eskatun, @rocketman003 and an email from Masterjedi (@masterbearjedi).
6. Sarlacc Digest
Our topic of discussion was gaming peripherals, based on tweets from @Jayconnell, @YojeVawree and @rclemons1977 (Brian Clemons) and emails from Rendrin, Quaza Impsbane, Marshall Carr and Azazeal.
The devices that we discussed are from both Razer and Logitech:
7. Outro
Thanks to Redna (@RystoJ) and Hyp (@Hypknotoad) for joining us this week.
Information about our guilds on The Harbinger, Ootini Knights (Republic) and Ootini Rage (Empire), can be found here.
You can email questions and comments about the show to ootinicast@gmail.com. Follow us on Twitter via @OotiniCast. Check out our website, ootinicast.com, which has links to our presence on Google+ and Facebook. We are a proud member of the TOR Syndicate! You can subscribe to us on iTunes and Zune, and listen to us on Stitcher and Radio Paragon.