Podcast: Play in new window | Download
Subscribe: RSS
We discuss the latest patch (1.7.1) to live, along with the SWTOR news, again focusing on what we're finding out about Game Update 2.0 from the PTS.
1. Introduction
Hyp provides the following pictures from our second run to get the +10 datacron on the Republic Fleet: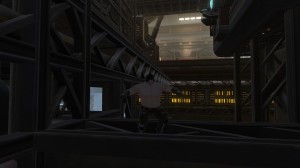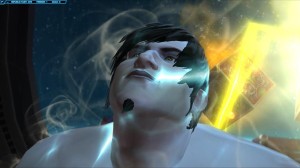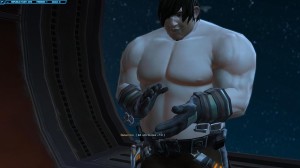 Hyp also provided an action shot of his Marauder (Baldy), in all her… ummm… glory…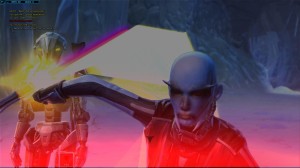 2. Trivia Question
Congratulations to this week's winner, Nightmare!
3. The Holofeed
Patch 1.7.1 was released during maintenance on Wednesday, postponed from Tuesday. This includes the reduction in repair costs and the further 50% off all repairs until the expansion is released.
This week's Cartel Market update summarises what's new in Patch 1.7.1, including the Gold Scalene Armor Set.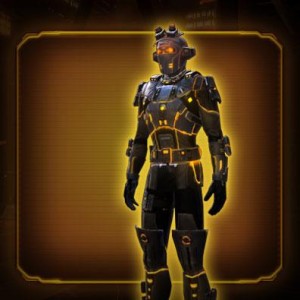 Joveth Gonzalez is leaving BioWare for a new opportunity; we wish him the best of luck! However, the community remains in the good hands of Eric Musco (who's the new SWTOR Community Manager), Amber Green and Courtney Woods.
The CE (Collector's Edition) vendor will have something added to what's being sold in patch 1.7.2, with at least the intention of further goodies being added in the future.
Those on the underpopulated Australian servers were reminded that they have not been forgotten, though there's yet to be a solution implemented.
We discuss the timing of the presumably separate release of Game Update 2.0 followed by the Rise of the Hutt Cartel expansion, based on some interesting speculation by Mark Emery via Facebook.
The existing commendations will be converted into the new Classic Commendations currency when 2.0 is released, using the following ratios:

Tionese Commendations 6:1
Columi Commendations 4:1
Daily Commendations 4:1
Black Hole Commendations 1:1

While Classic Commendations have a weekly cap (200) and an overall cap (400), a "soft" cap of 800 will be used for the one-time conversation with Game Update 2.0.

Rob Hinkle answered several questions to do with how the new PvP brackets (levels 10-29, 30-54 and 55) will work, including how bolstering will work (1, 2, 3).
It seems that the plan is for players in high-end operation gear will probably not be replacing anything until levels 54-55 as they level through Makeb.
4. Force Feedback
Our sincere thanks to Voyak and Snowy for their most generous donations!
We discuss tweets from @TheTurg, @HamSammich509, @AHlaenxna (Vis), @DarthKenji, Dan K, @rbleamon (Ray Leamon), @therealHausman (Jacob), @ForceChuckle, @terencemyers, @GregCarter78, @banyo1984 (Benjamin B), @Eskatun, @ThePiousPunk, @GregCarter78, @masterbearjedi (Raz), @Ryan_B1313, @DanCremer, @MikeG_75, @JediKrackr, @Geldarion, @cwctoby (Toby B), @Justin_The_Nerd and @madmar_sith.
We also give our thoughts on a proposal from Mr Obtuse for the introduction of an intermediate level between Preferred status and Subscriber.
5. Outro
Thanks to Hyp (@Hypknotoad) for joining us this week.
Information about our guilds on The Harbinger, Ootini Knights (Republic) and Ootini Rage (Empire), can be found here.
You can email questions and comments about the show to ootinicast@gmail.com. Follow us on Twitter via @OotiniCast. Check out our website, ootinicast.com, which has links to our presence on Google+ and Facebook. We are a proud member of the TOR Syndicate! You can subscribe to us on iTunes and Zune, and listen to us on Stitcher and Radio Paragon.