Podcast: Play in new window | Download
Subscribe: RSS
Plenty of news to cover this week, including coverage of the recent Community Cantina held in San Francisco.
1. Introduction
Hyp provides a side-by-side comparison between the gold and red versions of his new speeder: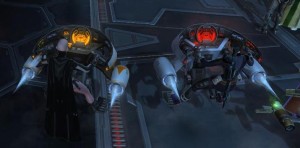 Here is Hyp's Marauder, Baldy, showing her inner beauty.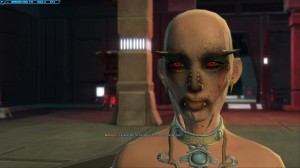 To enhance that lovely visage, Hyp has found Baldy a new outfit.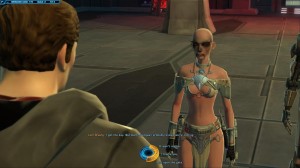 2. Trivia Question
Just like seeing which actors tried out for famous roles is instructive, amusing, and disturbing, it can also be interesting to see how characters were "tried out" in early drafts before becoming the characters we know.
Which characters started out as the following?
65-year-old General Starkiller?
A 14-year-old princess with two brothers?
A fat humanoid pirate?
A slimy, green alien with no nose and large gills?
Originally named Buffy?
If you are interested in being entered in the random drawing for a Tauntaun Fawn code and a Space Pirate's Cartel Pack, please send your answer to ootinicast@gmail.com.
3. The Holofeed
4. Community News
Jacob Hausman has written a Ranked Warzone Guide. If you have an existing ranked team, or would like to create one, there's plenty of great advice here!
Chong created a short Harlem Shake video, featuring a few members of our Ootini Knights and Ootini Rage guilds.
5. Force Feedback
Our sincere thanks to Weihan Sun for his donation!
We discuss tweets from @rbleamon (Ray Leamon), @weihanthekidsun (Weihan Sun), @michaeloranje, @Dimbo56, @TheTurg, @ChazLobo, @JediKrackr, @ForceChuckle, @GregCarter78, @DanCremer, @terencemyers and @Geldarion (from Corellian Run Radio).
The site with crafting information that Kara requested is www.swtor.co.uk.
6. Outro
Thanks to Chong (@EmpireDivider), Redna (@RystoJ) and Hyp (@Hypknotoad) for joining us this week.
Redna also invites players on The Bastion to /cjoin cpunks and/or to friend his characters Numa and Rysto.
Information about our guilds on The Harbinger, Ootini Knights (Republic) and Ootini Rage (Empire), can be found here.
You can email questions and comments about the show to ootinicast@gmail.com. Follow us on Twitter via @OotiniCast. Check out our website, ootinicast.com, which has links to our presence on Google+ and Facebook. We are a proud member of the TOR Syndicate! You can subscribe to us on iTunes and Zune, and listen to us on Stitcher and Radio Paragon.