Podcast: Play in new window | Download
Subscribe: RSS
We discuss the initial information about Game Update 2.0: Scum and Villainy, which is now on the PTS for everyone to try!
1. Introduction
This portrait of Hyp's Scoundrel, Pearlneck, almost makes him look good.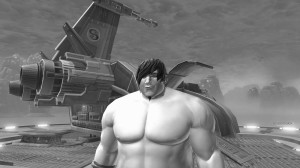 Meanwhile, Hyp's Marauder, Baldy, receives a Jawagram from an admirer. They're just good friends.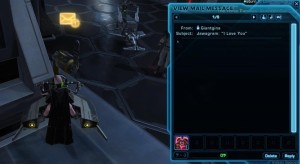 2. Trivia Question
There are lots of reused items in game, as there are in any MMO. For example, on nearly every fence near a military base or even factory you will find bright yellow signs that say, in Aurebesh, "KEEP OUT." Also common are Wanted posters, with that word and a credit symbol.
But the most common words I think you will see in-game are the words in Aurebesh for "VIABLE SAMPLE." So the question is: where will you see them? Hint: you will find this phrase on every planet in the game, excepting the starter planets, and never in a spaceport or cantina.
If you are interested in being entered in the random drawing for a Tauntaun Fawn code, please send your answer to ootinicast@gmail.com.
3. The Holofeed
4. Community News
Thanks to the Revcast crew for allowing Chill and Teo to join them in their second episode! You can find out more about Revcast at revcast.net.
Chill has written an article that documents PvE and PvP 2- and 4-piece set bonuses for all classes.
Also, a reminder to have a look at Ryan (a.k.a. Grav)'s article "PUG", which was published last week.
5. Force Feedback
Our sincere thanks to @HamSammich509 for his generous donation!
We discuss tweets from @TheTurg, @mark00z, @DarthSolarion, @EmpireDivider (Moff Chong), @ChazLobo, @JediKrackr, @ForceChuckle, @masterbearjedi (Raz), @Ryan_B1313, @bytorsnowdog, @rbleamon (Ray Leamon), @AspisVodox, @DanCremer, @Darklighter159, @banyo1984 (Benjamin Becker), @HamSammich509 and @GregCarter78.
6. Outro
Thanks to Oni (@Freakin_Ninja), Redna (@RystoJ) and Hyp (@Hypknotoad) for joining us this week.
Redna also invites players on The Bastion to /cjoin cpunks and/or to friend his characters Numa and Rysto.
Information about our guilds on The Harbinger, Ootini Knights (Republic) and Ootini Rage (Empire), can be found here.
You can email questions and comments about the show to ootinicast@gmail.com. Follow us on Twitter via @OotiniCast. Check out our website, ootinicast.com, which has links to our presence on Google+ and Facebook. We are a proud member of the TOR Syndicate! You can subscribe to us on iTunes and Zune, and listen to us on Stitcher and Radio Paragon.