Podcast: Play in new window | Download
Subscribe: RSS
On this week's end-of-year show, we discuss Carrie Fisher's passing and how it was commemorated by many SWTOR players. We also recall what was added to the game in 2016, and express some wishes for what could be added in 2017. Happy New Year!
1. Introduction
When visiting his parents, Chill rediscovered some old friends from his childhood:
2. Tip of the week
Congratulations to this week's winner, Flesh/El Gato of the Jedi Covenant server! Thanks to Blay, Stuart, Illeva, Eric and Johnny for entering.
Please send your tips to ootinicast@gmail.com by next Tuesday for a chance to win a Taunfawn or M8-3R droid code, courtesy of BioWare, and an OotiniCast-provided Cartel Market pack from the latest shipment.
3. Holofeed
Carrie Fisher, who played Princess Leia, passed away on 27 December. Many hundreds of SWTOR players have been paying their respects by visiting Castle Organa on Alderaan, as can be seen in this fan-made tribute.
Groopur of our own Ootini Knights was one of those who participated: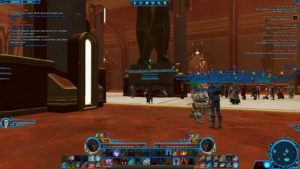 Among several ideas of how BioWare could celebrate her memory is this petition requested that an Alderaan Stronghold be added.
It seems that the "Myserious Empire of Zakuul" was only listed in the Polish version of the Star Wars: Galactic Atlas.
4. Force Feedback
Thanks to our latest Ootini Patron, Ulldu!
Marcus has a most generous and perceptive wife, as his Christmas gifts show:
Bacon-born Johnny also dressed most appropriately when seeing Rogue One:
You can get your own Ootini Rage or Ootini Knights shirt in our store.
Illeva referenced this article discussing how Grand Moff Tarkin was portrayed in Rogue One.
5. Outro
On the show this week were Chill (@BrandonLStarr, twitch.tv/chillswtor), Teo (@jasonetheridge), Charlie (@Kranitoko, YouTube channel), Illeva (@IllevaGaming, twitch.tv/illeva) and Blay (@Blachloch).
Information about our guilds on The Harbinger, Ootini Knights (Republic) and Ootini Rage (Empire), can be found here.
You can email questions and comments about the show to ootinicast@gmail.com. Follow us on Twitter via @OotiniCast. Check out our website, ootinicast.com, which has links to our presence on Google+ and Facebook. You can subscribe to us on iTunes, and listen to us on Stitcher and Spreaker. We record the show live every Wednesday at 4:30pm Pacific, goto ootinicast.com/live to find out how to join in!