Podcast: Play in new window | Download
Subscribe: RSS
This week we hear all about Star Wars Celebration, which was attended by our guests Blay and Charlie. We also discuss SWTOR's 5 year anniversary year, and the announcement of Knights of the Eternal Throne (KotET), SWTOR's next expansion.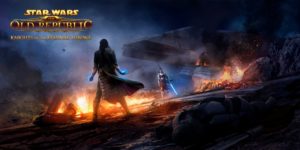 1. Introduction
Charlie provides this montage from Star Wars Celebration:
Blay managed to collect some autographs from BioWare staff in attendance, along with Vaylin's voice actor!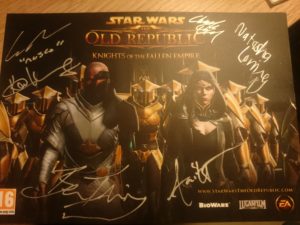 Chillsanta encountered some truly creepy glitches:
On Belsavis, Chillsanta encountered Freddy Mercury!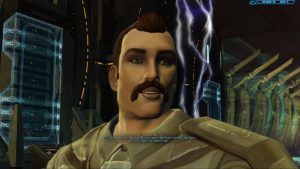 2. Tip of the week
Congratulations to this week's winner, Sinnar! Thanks to Andarank and Ben for entering.
Please send your tips to ootinicast@gmail.com by next Tuesday for a chance to win a Taunfawn or M8-3R droid code, courtesy of BioWare, and an OotiniCast-provided Cartel Market pack from the latest shipment.
3. Holofeed
Some players did indeed miss out on the 500 Cartel Coins from the targeted launch-based offer, and should get their CC in the next few days.
SWTOR is celebrating its 5th anniversary year. BioWare have produced a short trailer with some of the highlights, including the revelation of Knights of the Eternal Throne (KotET), the next expansion. There's also an infographic with various interesting data points about the game's players.
James Ohlen talks about KotET in this interview.
Some questions and BioWare's answers from the London Cantina were provided to Dulfy.
4. Community
Daniel's survey is now live! You can do it here. Follow him on Twitter using @Infinite0utcome for the latest news.
5. The Academy
Swtorista presents the second half of her class on Galactic Starfighter, telling us how to fly our ships and how to play in GSF matches!
6. Force Feedback
7. Outro
On the show this week were Chill (@BrandonLStarr, twitch.tv/chillswtor), Teo (@jasonetheridge), Blay (@Blachloch) and Charlie (@Kranitoko, youtube.com/KranitokoGames).
Information about our guilds on The Harbinger, Ootini Knights (Republic) and Ootini Rage (Empire), can be found here.
You can email questions and comments about the show to ootinicast@gmail.com. Follow us on Twitter via @OotiniCast. Check out our website, ootinicast.com, which has links to our presence on Google+ and Facebook. You can subscribe to us on iTunes, and listen to us on Stitcher and Spreaker. We record the show live every Wednesday at 4:30pm Pacific, goto ootinicast.com/live to find out how to join in!