Podcast: Play in new window | Download
Subscribe: RSS
Very little news this week, though we do have Game Update 4.5 and Chapter 14 coming next week. Our first-time guest Christina gives us some insight into the life of a working voice actor.
1. Introduction
Here is Chill's new sniper: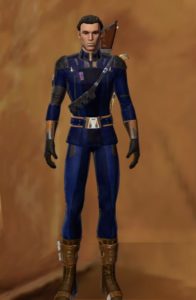 2. Tip of the week
Congratulations to this week's winner, Sapfire!
Please send your tips to ootinicast@gmail.com by next Tuesday for a chance to win a Taunfawn or M8-3R droid code, courtesy of BioWare, and an OotiniCast-provided Cartel Market pack from the latest shipment.
3. Holofeed
4. Community
Thanks to our latest Ootini Patron: Sunken!
Our Share the Rage competition continues. Last week's Ootini Rage was by Joseph Brown. This week's is by Jerane (aka ThisManThisMonster) and his son.
If you want to learn Aurebesh, the Star Wars writing system, check out our Aurebesh Trainer.
5. The Academy
This week Swtorista will tell us everything we need to know about acquiring, expanding and decorating our Galactic Strongholds.
6. Force Feedback
Dekion found this summary infographic mapping class roles to gear sets:
You can find out more in our PvE and PvP 2-, 4- and 6-piece set bonuses for all classes article.
This awesome example of player-generated prospective content came up: a Manaan Stronghold, modelled in loving detail.
Who else puts the Bill in Billionaire?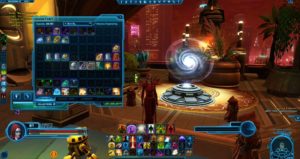 7. Outro
On the show this week were Chill (@BrandonLStarr, twitch.tv/chillswtor), Teo (@jasonetheridge), Alex (@MixUpPixels, geek-podcast.com) and Cristina (@CristiPetrarca, cristinapetrarca.com).
Information about our guilds on The Harbinger, Ootini Knights (Republic) and Ootini Rage (Empire), can be found here.
You can email questions and comments about the show to ootinicast@gmail.com. Follow us on Twitter via @OotiniCast. Check out our website, ootinicast.com, which has links to our presence on Google+ and Facebook. You can subscribe to us on iTunes, and listen to us on Stitcher and Spreaker. We record the show live every Wednesday at 4:30pm Pacific, goto ootinicast.com/live to find out how to join in!