Podcast: Play in new window | Download
Subscribe: RSS
Game Update 4.5: Mandalore's Revenge is here! We cover what's in the update, along with the controversial announcement of the Eternal Championship speedrun winners. Then in our discussion, we discuss SWTOR's popularity over time, in conjunction with its apparent financial success according to EA's annual report.
1. Introduction
Ivilon mentioned the chat channel RevanitewalkerWB (/cjoin RevanitewalkerWB) on The Harbinger.
Here's what Swtorista pulled out of her Hypercrate of Revenge Packs: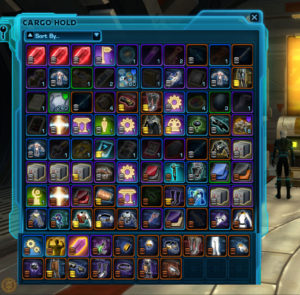 Chill's Snipers look is mostly the same as last week: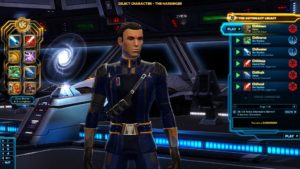 2. Tip of the week
Congratulations to this week's winner, Dekarch! Thanks to Billyokar and Teadra for entering.
Please send your tips to ootinicast@gmail.com by next Tuesday for a chance to win a Taunfawn or M8-3R droid code, courtesy of BioWare, and an OotiniCast-provided Cartel Market pack from the latest shipment.
3. Holofeed
4. Community
Xam Xam's articles that were mentioned:
Teadra is recruiting for his raid team:
Despair is recruiting members for a weekend raid team. We currently raid on Saturday and Sunday Nights from 6PM Pacific Time (8 PM Central and 9 PM Eastern). We typically raid for about 2 and a half hours a night. Right now our focus is on clearing the priority HM of the week and any other HM's we feel might be fun to jump into on that raid night. We are not a hardcore progressive raid team. We get together to have fun with each other and to challenge ourselves in a fun way. I do not care about a person's gear when they join my team. Any gear issues can easily be replaced. The only thing I care about is that the individual has a good attitude, can get along well with the core group, doesn't mind wiping (alot), is willing to have a good time and has at least a basic understanding of their class and rotation. We are currently recruiting for a full time ranged DPS and a tank and/or healer that is willing to substitute on an as needed basis. People joining must be able to get onto our mumble chat and realize that this is a mature, adult raid team that engages in adult humor while raiding together. If anyone is interested they can contact Teadra Jethari or Lilene Moiral in game either via mail or hit me up if you see me online.
This week's entry for our Share the Rage competition is from Dave.
5. The Academy
This week Swtorista will tell us all about decorating our Strongholds!
6. Force Feedback
7. Sarlacc Digest
We discuss the apparent popularity of SWTOR over time, and then examine its apparent success according to EA's annual report, based upon Andrew's analysis. During the discussion, we reference two Google Trends graphs, the first showing SWTOR searches from the game's launch in December 2011 to now; the second showing the last year.
8. Outro
On the show this week were Chill (@BrandonLStarr, twitch.tv/chillswtor), Teo (@jasonetheridge), Swtorista (@swtorista, swtorista.com, swtorstrongholds.com), Andrew (@SWTOREconomics, swtoreconomics.com) and Ivilon (@percomposer, stephenridley.com).
Information about our guilds on The Harbinger, Ootini Knights (Republic) and Ootini Rage (Empire), can be found here.
You can email questions and comments about the show to ootinicast@gmail.com. Follow us on Twitter via @OotiniCast. Check out our website, ootinicast.com, which has links to our presence on Google+ and Facebook. You can subscribe to us on iTunes, and listen to us on Stitcher and Spreaker. We record the show live every Wednesday at 4:30pm Pacific, goto ootinicast.com/live to find out how to join in!