Podcast: Play in new window | Download
Subscribe: RSS
A fair bit of news this week, including the temporary return of cheap character transfers, upcoming class changes, and what Eric Musco talked about during his marathon livestream. Then our discussion is on the topic of the Hate Police, those players who take it upon themselves to attack anyone critical of SWTOR.
1. Introduction
Swtorista mentioned this screenshot of her team getting very close to taking down Revan: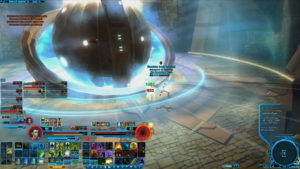 She also provided this screenshot of her guild's awesomely decorated guild flagship: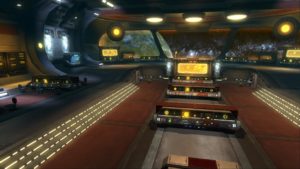 2. Tip of the week
Congratulations to this week's winner, Mors'ira! Thanks to Bouhun and Synwulf for entering.
Please send your tips to ootinicast@gmail.com by next Tuesday for a chance to win a Taunfawn or M8-3R droid code, courtesy of BioWare, and an OotiniCast-provided Cartel Market pack from the latest shipment.
3. Holofeed
4. Community
Thanks to BigDo6 for his kind review!
5. The Academy
This week Swtorista will tell us about The Chat System: how to filter out what you don't want to hear, and how to hear more about the things you like by joining channels.
6. Force Feedback
GasGuy has once again updated his most excellent Codex Tracking spreadsheet.
7. Sarlacc Digest
We discuss the Hate Police, those players who attack anyone critical of the game. Thanks to Mae (@Maebeebuzz), Rachel (@Rach_Games), Laurie (@Lawilc01), Nepthen (@NepthenORD) and Sechari (@iamsechari) for their contributions to the discussion.
8. Outro
On the show this week were Chill (@BrandonLStarr, twitch.tv/chillswtor), Teo (@jasonetheridge) and Swtorista (@swtorista, swtorista.com, swtorstrongholds.com).
Information about our guilds on The Harbinger, Ootini Knights (Republic) and Ootini Rage (Empire), can be found here.
You can email questions and comments about the show to ootinicast@gmail.com. Follow us on Twitter via @OotiniCast. Check out our website, ootinicast.com, which has links to our presence on Google+ and Facebook. You can subscribe to us on iTunes, and listen to us on Stitcher and Spreaker. We record the show live every Wednesday at 4:30pm Pacific, goto ootinicast.com/live to find out how to join in!