Podcast: Play in new window | Download
Subscribe: RSS
We talk about seeing Star Wars: The Force Awakens (spoiler-free, of course). There's also a little SWTOR news, including the broken events and the nVidia contest. Then more discussion in response to listener feedback about BioWare's strategy going forward.
1. Introduction
Chill appeared on episode 25 of Alex's GeEK Podcast. Alex talked about The HK-55 Bonus Chapter in SWTOR—How I would do, his latest blog post.
2. Tip of the week
The site mentioned by Sukai was lightsaber.withgoogle.com.
Congratulations to this week's winner, Sukai! Thanks to Knite, Sir Nobody, Ol'Sarge and Dekion for entering.
Please send your tips to ootinicast@gmail.com by next Tuesday for a chance to win a Taunfawn or M8-3R droid code, courtesy of BioWare, and an OotiniCast-provided Cartel Market pack from the latest shipment.
3. Holofeed
4. Community
Last week's Reddit discussion on episode 239 was quite extensive!
5. Force Feedback
Dlots referred us to this Reddit thread discussing the new Star Game in development at EA subsidiary Visceral.
The Good Game review of KotFE can be seen here.
Sukai and his brother Mykre levelled from 1-65 using only the most basic of gear, as you can see in this video.
However, when told that it wasn't without any gear, Sukai has taken on a near challenge: level a character which only has the starter items received when it was first created… and is now level 51 after three days!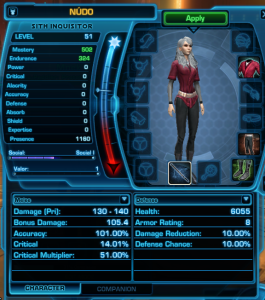 6. Outro
On the show this week were Chill (@BrandonLStarr, twitch.tv/chillswtor), Teo (@jasonetheridge), Alex (@MixUpPixels, geek-podcast.com) and Bill (@BillLentz).
Information about our guilds on The Harbinger, Ootini Knights (Republic) and Ootini Rage (Empire), can be found here.
You can email questions and comments about the show to ootinicast@gmail.com. Follow us on Twitter via @OotiniCast. Check out our website, ootinicast.com, which has links to our presence on Google+ and Facebook. You can subscribe to us on iTunes, and listen to us on Stitcher and Spreaker. We record the show live every Wednesday at 4:30pm Pacific, goto ootinicast.com/live to find out how to join in!