Podcast: Play in new window | Download
Subscribe: RSS
In the news this week we cover Game Update 4.0.3, the currency duplication exploit and much more. Then in our discussion, we talk through the revelation about Nightmare Mode loot. The winners of our SWTOR meme contest are also announced!
1. Introduction
Here is Bill's recipe for The Ootini:
2oz/60ml Reposado Tequila
0.5oz/15ml Orange Curacao
0.5oz/15ml Blood Orange Liqueur
0.5oz/15ml Luxardo
2oz/60ml lime juice
Juice of half an orange (optional)
Garnish with lemon and orange wheels
Teo recommends checking your Windows energy options, as described in this Reddit thread, as a possible solution for FPS issues.
2. Tip of the week
Congratulations to this week's winner, GasGuy! Thanks to Uwen, Elion D, Fluffyvert and an anonymous contributor for entering.
Uwen's tip about categorising Heroic missions in terms of how quickly/efficiently they can be run is sourced from this Reddit thread, and summarised in this Google spreadsheet.
Fluffyvert mentioned the swtor_fix used to run SWTOR in Wine on Linux.
GasGuy provided this graphical map of the travel routes on Nar Shaddaa (click to expand):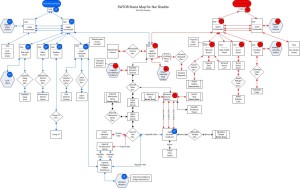 Please send your tips to ootinicast@gmail.com by next Tuesday for a chance to win a Taunfawn or M8-3R droid code, courtesy of BioWare, and an OotiniCast-provided Cartel Market pack from the latest shipment.
3. Holofeed
4. Community
Thanks to our latest Ootini Patron: Michele! Also thanks to Kim for their donation. It all keeps the Sandcrawler running!
Farewell to friend of the show Joe Keyser, known to us as Dark Edge Gaming. You will be missed. Sechari wrote a touching farewell. You can help out Joe's family via this fund raising campaign.
Our SWTOR meme contest winners have been chosen by our panel of experts!
In first place is Vlaadimir of The Shadowlands, who receives 60 days of game time: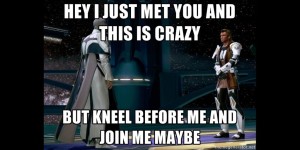 Second was Lorhin (@NessTheHappy), who receives 2400 Cartel Coins: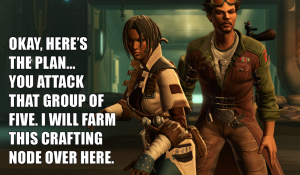 Here's Teo's ineligible entry which ended up in third place: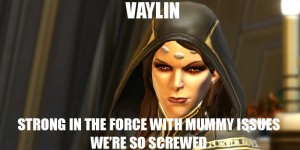 The real third place was attained by Dark Edge Gaming. We will be contributing to his family's fund raising campaign.
Our two runners-up who will each receive 450 Cartel Coins were Blachloch and @Eth_Com: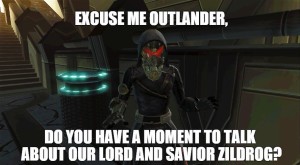 Here is Teo's personal favourite from Alex (@MixUpPixels):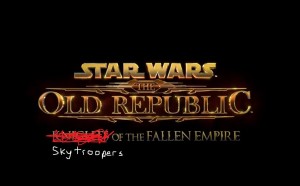 You can see all the entries via the #swtormemecontest hash tag.
5. Force Feedback
Andrew's blog The Two Day "Early Access" Mystery came up while we went through the feedback.
Brad Pepper asked whether anyone else has encountered Voss no-neck (Gaden-Ko):
Here is Charlie's meme in response to the subscriber rewards:
Dekion wonders whether the fembot (third standing on the left) in this scene from The Force Awakens could actually be Scorpio?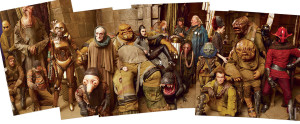 6. Sarlacc Digest
It seems that it was never intended that Nightmare Mode operations would always drop item rating 224 gear; instead, they will (once it is fixed in Game Update 4.1 in February) have a chance of dropping 224 gear in place of 220 gear (which is all that is showing up now). We discuss this change that Andrew blogged about in The 151 Day Typo.
7. Outro
On the show this week were Chill (@BrandonLStarr, twitch.tv/chillswtor), Teo (@jasonetheridge), Bill (@BillLentz) and Andrew (@SWTOREconomics, swtoreconomics.com).
Information about our guilds on The Harbinger, Ootini Knights (Republic) and Ootini Rage (Empire), can be found here.
You can email questions and comments about the show to ootinicast@gmail.com. Follow us on Twitter via @OotiniCast. Check out our website, ootinicast.com, which has links to our presence on Google+ and Facebook. You can subscribe to us on iTunes, and listen to us on Stitcher and Spreaker. We record the show live every Wednesday at 4:30pm Pacific, goto ootinicast.com/live to find out how to join in!