Podcast: Play in new window | Download
Subscribe: RSS
We discuss the December Producer Livestream which announced the subscriber rewards program, when Chapter X: Anarchy in Paradise is arriving, what's happening in December, and nothing at all about new MMO bits.
1. Introduction
Teo is reading The Han Solo Adventures by Brian Daley.
Chill reviewed Star Wars: Absolutely Everything You Need to Know: Journey to Star Wars: The Force Awakens.
2. Tip of the week
Congratulations to this week's winner, Chinn'ook from Jedi Covenant! Thanks to Uwen, Itusimi and Alex for entering, and to Kuze for his bonus tips.
Please send your tips to ootinicast@gmail.com by next Tuesday for a chance to win a Taunfawn or M8-3R droid code, courtesy of BioWare, and an OotiniCast-provided Cartel Market pack from the latest shipment.
3. Holofeed
4. Community
Thanks to Kevin for his recurring donation, and also to our latest Ootini Patron: Richard!
The latest 1v1 tournament on The Red Eclipse, called "(Take A) Life Day Celebration", is happening this Saturday 5 December at 7pm GMT.
5. Force Feedback
Chinn'ook found this example of the pervasiveness of Star Wars merchandise:
Ivilon discovered that dictating notes in his car may not always be such a good idea: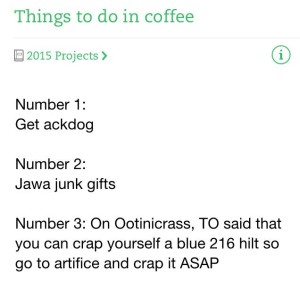 6. Outro
On the show this week were Chill (@BrandonLStarr, twitch.tv/chillswtor), Teo (@jasonetheridge) and Kuze (@kuze_roh, YouTube).
Information about our guilds on The Harbinger, Ootini Knights (Republic) and Ootini Rage (Empire), can be found here.
You can email questions and comments about the show to ootinicast@gmail.com. Follow us on Twitter via @OotiniCast. Check out our website, ootinicast.com, which has links to our presence on Google+ and Facebook. You can subscribe to us on iTunes, and listen to us on Stitcher and Spreaker. We record the show live every Wednesday at 4:30pm Pacific, goto ootinicast.com/live to find out how to join in!