Podcast: Play in new window | Download
Subscribe: RSS
In the news we cover the companion de-/un-nerf, the piles o' corpses bug, and Patch 4.0.2a. We then discuss the issues raised by our guest Holly's article on how we got to KotFE and the importance of growing the community.
1. Introduction
2. Tip of the week
Congratulations to this week's winner, Asukha! Thanks to the Duke of Etiquette, Oryansbelt, Zavi-java and Kal for entering.
Please send your tips to ootinicast@gmail.com by next Tuesday for a chance to win a Taunfawn or M8-3R droid code, courtesy of BioWare, and an OotiniCast-provided Cartel Market pack from the latest shipment.
3. Holofeed
4. Force Feedback
Here's the link to the guide for affection farming in The Black Talon provided in TheUnNamedHero's tip from the last show.
Mason recommends these Star Wars: The Old Republic posters from Amazon that come in three sizes (75″x24″, 40″x21″, 43″x24″).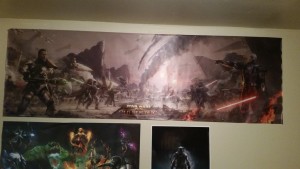 BornToEatBacon provided us with the following dose of Star Wars humour:
As did DarkEdgeGaming:
5. Sarlacc Digest
We discuss the issues raised in Holly's article Knights of the Fallen Empire and how we got here.
6. Outro
On the show this week were Chill (@BrandonLStarr, twitch.tv/chillswtor), Teo (@jasonetheridge) and Holly (@Noctua_GD, gamersdecrypted.com).
Information about our guilds on The Harbinger, Ootini Knights (Republic) and Ootini Rage (Empire), can be found here.
You can email questions and comments about the show to ootinicast@gmail.com. Follow us on Twitter via @OotiniCast. Check out our website, ootinicast.com, which has links to our presence on Google+ and Facebook. You can subscribe to us on iTunes, and listen to us on Stitcher and Spreaker. We record the show live every Wednesday at 4:30pm Pacific, goto ootinicast.com/live to find out how to join in!