Podcast: Play in new window | Download
Subscribe: RSS
Game Update 4.0.1 is here, along with the official release of Knights of the Fallen Empire for all subscribers!
1. Introduction
Kuze's new looks:
As mentioned by Chill, Kira's bracers (from her original starter gear) are quite fetching: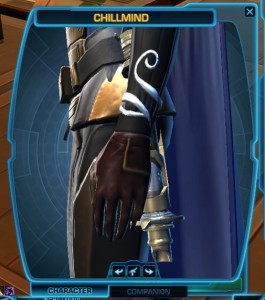 2. Tip of the week
Congratulations to this week's winner, Sechari! Thanks to AegisKnight, Dan-Piehurler, Dekion, LaChimba, Knite, O'barr, Alex, LekRyugan, JediKnight3420 and JSarc (@BornToEatBacon!) for entering.
Please send your tips to ootinicast@gmail.com by next Tuesday for a chance to win a Taunfawn or M8-3R droid code, courtesy of BioWare, and an OotiniCast-provided Cartel Market pack from the latest shipment.
3. Holofeed
4. Community
Thanks to our latest Ootini Patron: Andy!
The OotiniCast SWTOR Meme Contest has begun. Goto ootinicast.com/memecontest2015 to find out more.
5. Force Feedback
Thoroughmas observes that his cape is really determined not to clip through his speeder:
Jerrold sent us these images of Treek looking very, very strange:
He also provided this video to show exactly how it looks. Michael likewise encountered the issue: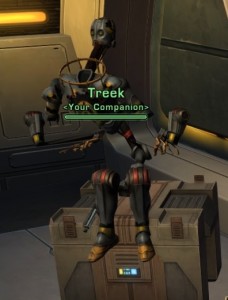 Jerrold encountered a Voss that actually is 9 feet tall:
Knite suggests people send in their KotFE screenshots from its awesome cutscenes2, such as this one which he provided:
6. Outro
On the show this week were Chill (@BrandonLStarr, twitch.tv/chillswtor), Teo (@jasonetheridge), Kuze (@kuze_roh, YouTube) and Charlie (@Kranitoko, youtube.com/KranitokoGames).
Information about our guilds on The Harbinger, Ootini Knights (Republic) and Ootini Rage (Empire), can be found here.
You can email questions and comments about the show to ootinicast@gmail.com. Follow us on Twitter via @OotiniCast. Check out our website, ootinicast.com, which has links to our presence on Google+ and Facebook. You can subscribe to us on iTunes, and listen to us on Stitcher and Spreaker. We record the show live every Wednesday at 4:30pm Pacific, goto ootinicast.com/live to find out how to join in!