Podcast: Play in new window | Download
Subscribe: RSS
We cover some diverse topics this week, including Game Update 3.3.1, the highlights of Disney's D23, and the rumours of a KOTOR remake. In our discussion, we look at the population trends in Ranked PvP over time, consider the Season 6 rewards teaser, and then come up with many ideas on how to improve Ranked PvP.
1. Introduction
2. Tip of the week
Congratulations to this week's winner, Teadra!
Please send your tips to ootinicast@gmail.com by next Tuesday for a chance to win a Taunfawn or M8-3R droid code, courtesy of BioWare, and an OotiniCast-provided Cartel Market pack from the latest shipment.
3. Holofeed
Game Update 3.3.1 was deployed during a 7 hour maintenance on Tuesday.
The top 10 guilds in last week's Conquest failed to get their rewards. This will soon be fixed.
It seems that Game Update 3.3.1 may have caused some GSF starfighter weapon selections to become unselected.
Those who achieved the Gold tier in Season 6 have received a truly exclusive variant of the Nexu in Game Update 3.3.1.
The Zakuul Knight Armor Set (which intentionally does not contain bracers) is now available for purchase on the Cartel Market for 1440 CC.
While it seems that information about Knights of the Fallen Empire, now only 8 weeks away, has been somewhat slow to emerge, Eric Musco (Community Manager) assures us that we'll find out more soon.
As another example of how analytics guides developer choices, EA's Star Wars Battlefront does not have a solo campaign mode because their player metrics indicate that the overwhelming preference is for multi-player only.
This Reddit thread summarises an article from a DICE developer explaining how game marketing works.
Disney's D23 this year included a new D23-exclusive poster for Episode VIII "The Force Awakens":
There are rumours that KOTOR (Knights of the Old Republic) will be remade for next-generation consoles (Playstation 4 and Xbox One) for release in the latter half of 2016.
4. Community
The Jar Jar Joyride is now running on The Harbinger at 8pm Central time. Come join the fun!
5. Force Feedback
Nic suggested we listen to this podcast episode (MP3, show notes) in which John Gaeta of Industrial Light & Magic discusses the future of VR (Virtual Reality).
6. Sarlacc Digest
Now that our ootinicast.com/Leaderboards is up to date, we have a look at Ranked PvP population trends: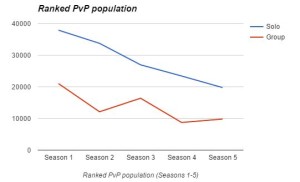 To answer a question posed by Chill in a previous episode, we look at faction balance overall and on The Harbinger, seeing how it has changed over time:
The Season 6 "Predacious" rewards have been announced.
Finally, Turg and Pez talk through their many ideas on how to improve Ranked PvP.
7. Outro
On the show this week were Chill (@BrandonLStarr, twitch.tv/chillswtor), Teo (@jasonetheridge), Turg (@TheTurg) and Pez (@MyVery0wnFlag).
Information about our guilds on The Harbinger, Ootini Knights (Republic) and Ootini Rage (Empire), can be found here.
You can email questions and comments about the show to ootinicast@gmail.com. Follow us on Twitter via @OotiniCast. Check out our website, ootinicast.com, which has links to our presence on Google+ and Facebook. You can subscribe to us on iTunes, and listen to us on Stitcher and Spreaker. We record the show live every Wednesday at 4:30pm Pacific, goto ootinicast.com/live to find out how to join in!