Podcast: Play in new window | Download
Subscribe: RSS
Plenty of discussion this week about the latest Knights of the Fallen Empire news emerging from Gamescom, including several interviews with James Ohlen and the Q&A sessions from both days of the Community Cantina.
1. Introduction
OotiniCast hosted the August edition (#8) of the Galactic Gamers Coalition: "The MMO bits". You can subscribe to its feed using iTunes or RSS, and follow them on Twitter using @SWTORGGC.
2. Tip of the week
Congratulations to this week's winner, Avon of the Dark Sith guild on The Harbinger!
Please send your tips to ootinicast@gmail.com by next Tuesday for a chance to win a Taunfawn or M8-3R droid code, courtesy of BioWare, and an OotiniCast-provided Cartel Market pack from the latest shipment.
3. Holofeed
4. Community
Thanks to our latest Ootini Patrons: Jason (@Zman_TheGamer) and Roderick!
Thanks also to JSarc's (@BornToEatBacon) son for providing this week's Ootini Rage.
XamXam (@Rach_Games) has authored an analysis of the "Become the Outlander" gameplay trailer on her blog. Charlie (@Kranitoko) has also published his own analysis of the trailer in this video.
5. Force Feedback
Greg wonders if anyone has come across this Sith dual-wielding a double-bladed lightsaber and a regular lightsaber: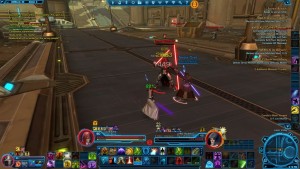 6. Outro
On the show this week were Chill (@BrandonLStarr, twitch.tv/chillswtor), Teo (@jasonetheridge), Turg (@TheTurg, @OotiniWarRoom) and Kuze (@kuze_roh, YouTube).
Information about our guilds on The Harbinger, Ootini Knights (Republic) and Ootini Rage (Empire), can be found here.
You can email questions and comments about the show to ootinicast@gmail.com. Follow us on Twitter via @OotiniCast. Check out our website, ootinicast.com, which has links to our presence on Google+ and Facebook. You can subscribe to us on iTunes, and listen to us on Stitcher and Spreaker. We record the show live every Wednesday at 4:30pm Pacific, goto ootinicast.com/live to find out how to join in!