Podcast: Play in new window | Download
Subscribe: RSS
We discuss whether SWTOR is Star Wars canon, and then share our predictions, hopes and dreams, and those of the community, about what 2015 will bring to the game.
1. Introduction
2. Tip of the week
Congratulations to this week's winner, Holmes/Mf-doom of the Jedi Covenant server!
Please send your tips to ootinicast@gmail.com by next Wednesday for a chance to win a Taunfawn code, courtesy of BioWare, and an OotiniCast-provided Cartel Market pack from the latest shipment.
3. Holofeed
The Twelve Days of SWTOR concluded on 29 December 2014.
While this week's Conquest may reference a Rakghoul outbreak on Corellia, it's not back this week.
In an interview with GameFront, Jeff Hickman (Executive Producer) and Bruce Maclean (Senior Producer) talk about the status of SWTOR in the new Star Wars canon.
4. Community
Forum user DorjeeVajra has created an open source collection of spreadsheets gathered from the community. He encourages us all to use and contribute as we see fit!
5. Force Feedback
Thanks to @UnholyAlliances for the kind mention she gave in her post pointing out positive members of the SWTOR community.
Dark spotted an NPC with a familiar name on the Imperial Fleet: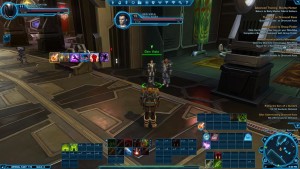 6. Sarlacc Digest
We discuss our predictions, hopes and dreams for SWTOR in 2015.
Thanks to Rachel (see her 2015 wish list), Mechadius, Pixelkaffe, Justin Sanudo, Freedious, XKing, FerrousTerran, Slade Evans, Revenge Forsaken, Nick, Ahsh, Tim Stratton, Joseph Brown, JB (Johnny Bravo), Haelen, Aaree, Megan, Kara Jade, Darklighter, Chong and Greg for their contributions!
7. Outro
On the show this week were Chill (@BrandonLStarr, twitch.tv/chillswtor), Teo (@jasonetheridge), Redna (@R3DN4, twitch.tv/r3dn4), Turg (@TheTurg) and Kranitoko (@Kranitoko, youtube.com/KranitokoGames).
Information about our guilds on The Harbinger, Ootini Knights (Republic) and Ootini Rage (Empire), can be found here.
You can email questions and comments about the show to ootinicast@gmail.com. Follow us on Twitter via @OotiniCast. Check out our website, ootinicast.com, which has links to our presence on Google+ and Facebook. You can subscribe to us on iTunes, and listen to us on Stitcher and Spreaker. We record the show live every Wednesday at 4:30pm Pacific, goto ootinicast.com/live to find out how to join in!