Podcast: Play in new window | Download
Subscribe: RSS
SWTOR's third anniversary is here! We discuss our own impressions and the highs and lows of 2014. A mostly great year, though we believe the best is yet to come!
1. Introduction
2. Tip of the week
Congratulations to this week's winner, Mariarchi!
Please send your tips to ootinicast@gmail.com by next Tuesday for a chance to win a Taunfawn code, courtesy of BioWare, and an OotiniCast-provided Cartel Market pack from the latest shipment.
3. Holofeed
4. Community
For those interested in healing, we highly recommend the discussion between Louis (@HealingSwtor, healingswtor.com) and Mae (@Maebeebuzz) on episode 224 of TOROCast.
5. Force Feedback
GasGuy has updated his Codex Tracking Spreadsheet with entries that were fixed by BioWare, and al the new entries on Rishi and Yavin 4. You can always find his latest version of the spreadsheet on our right sidebar.
Chong revels in the seemingly endless supply of slicing nodes on Yavin 4. They're everywhere!
Kal discovers that even the dead will provide Snow-Covered Parcels if plied with snowballs: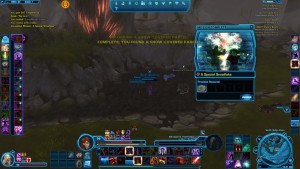 6. Sarlacc Digest
We take a look back at 2014, discussing the highs and lows, reminicing about the year gone by.
Thanks to Terg, Ferrous Terran, Spencer, Geldarion, Aaree, Laurie M, Freedious, Nepthen of Old Republic Radio and Road of TOROCast for their contributions!
7. Outro
Information about our guilds on The Harbinger, Ootini Knights (Republic) and Ootini Rage (Empire), can be found here.
You can email questions and comments about the show to ootinicast@gmail.com. Follow us on Twitter via @OotiniCast. Check out our website, ootinicast.com, which has links to our presence on Google+ and Facebook. You can subscribe to us on iTunes, and listen to us on Stitcher and Spreaker. We record the show live every Wednesday at 4:30pm Pacific, goto ootinicast.com/live to find out how to join in!