Podcast: Play in new window | Download
Subscribe: RSS
Game Update 3.0 and early access to the Shadow of Revan expansion are here! We talk about how we're finding it so far. There's also a brief discussion about the teaser trailer for Star Wars: The Force Awakens.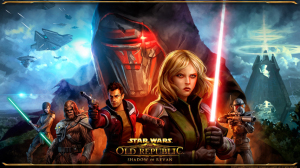 1. Introduction
Details about Charlie's competition can be found in the first episode of his Sith Warrior playthrough of the Shadow of Revan expansion.
2. Tip of the week
Congratulations to this week's winner, Caranome! Thanks to Jegger for entering.
Please send your tips to ootinicast@gmail.com by next Wednesday for a chance to win an M8-R3 code, courtesy of BioWare, and an OotiniCast-provided Cartel Market pack from the latest shipment.
3. Holofeed
4. Community
You can find Kuze's summary on how to obtain the new main stat datacrons in Game Update 3.0 here.
A few prominent contributors to the SWTOR community have banded together to create torcommunity.com, a hub for all kinds of information, guides and discussion about the game.
Ferrous Terran (@FerrousTerran) has created a Facebook group for our guild. All are welcome!
5. Force Feedback
LethalXBacon tells us that SWTOR has made it into the Guinness Book of Records (the Gamer's Edition, at least):
6. Outro
On the show this week were Chill (@BrandonLStarr, twitch.tv/chillswtor), Teo (@jasonetheridge), Redna (@R3DN4, twitch.tv/r3dn4) and Kranitoko (@Kranitoko, youtube.com/KranitokoGames).
Information about our guilds on The Harbinger, Ootini Knights (Republic) and Ootini Rage (Empire), can be found here.
You can email questions and comments about the show to ootinicast@gmail.com. Follow us on Twitter via @OotiniCast. Check out our website, ootinicast.com, which has links to our presence on Google+ and Facebook. You can subscribe to us on iTunes, and listen to us on Stitcher and Spreaker. We record the show live every Wednesday at 4:30pm Pacific, goto ootinicast.com/live to find out how to join in!