Podcast: Play in new window | Download
Subscribe: RSS
We discuss the most welcome quality of life changes that arrived with Game Update 2.10.2, the Ranked PvP Season 3 rewards, and more. We also give our reaction to the announced date for the Las Vegas Community Cantina.
1. Introduction
You can find Vulkk's video about Revan that was narrated by Teo here. There's plenty of other fantastic SWTOR videos on Vulkk's YouTube channel; well worth subscribing to!
Redna will be participating as part of the Bad Feeling Podcast's team in the Extra Life gaming marathon to raise money for Children's Miracle Network hospitals. You can support his efforts via his donation page. He'll be livestreaming for the full 24 hours on his Twitch channel, twitch.tv/r3dn4.
2. Tip of the week
Congratulations to this week's winner, Troja! Thanks to Yajard, Olib, DurtaDurta, Michael K and Carosel for entering.
Please send your tips to ootinicast@gmail.com by next Wednesday for a chance to win an M8-R3 code, courtesy of BioWare, and an OotiniCast-provided Cartel Market pack from the latest shipment.
3. Holofeed
Game Update 2.10.2 was deployed a day later than usual on Wednesday morning, to ensure the 12x XP UI indicator was included.
It included a new permission for Guildmasters to allow specific guild ranks to invade planets as part of Planetary Conquests.
Republic and Imperial crates, both single crates and in stacks, can now be purchased.
The much anticipated Slot Machine: Smuggler's Gambit decoration can now be purchased for 1 credit each from the Binary Star Reputation Vendor located in each fleet's Cartel Bazaar. Remember to use shift-click to purchase the maximum stack of 50! They will be removed from the vendor in Game Update 3.0 on 2 December.
4. Community
Olib (@OlibGaming) has created a community site in which he hopes to provide curated content that is useful to the SWTOR community. You can find it at swtornetwork.com.
5. Force Feedback
Moff Chong is recruiting!
Kal finds out the not-so-hard way that one can survive falling through the bridge at the end of Scum & Villainy:
Terg found the following chestpiece that appears quite different from when it's previewed: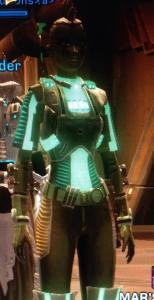 6. Outro
Thanks to Simon (@RPGbeatsRL) and Redna (@R3DN4, twitch.tv/r3dn4) for joining us this week.
Information about our guilds on The Harbinger, Ootini Knights (Republic) and Ootini Rage (Empire), can be found here.
You can email questions and comments about the show to ootinicast@gmail.com. Follow us on Twitter via @OotiniCast. Check out our website, ootinicast.com, which has links to our presence on Google+ and Facebook. You can subscribe to us on iTunes, and listen to us on Stitcher and Spreaker. We record the show live every Wednesday at 4:30pm Pacific, goto ootinicast.com/live to find out how to join in!