Podcast: Play in new window | Download
Subscribe: RSS
From famine to feast! We talk about the Shadow of Revan announcement, and discuss in depth the new Disciplines system that will arrive in Game Update 3.0.
1. Introduction
2. Tip of the week
Congratulations to this week's winner, TwinMgr! Thanks to Jay Connell and Darth Cathgirl for entering.
Here's Jay's action bar layout which maps directly to his new gaming mouse: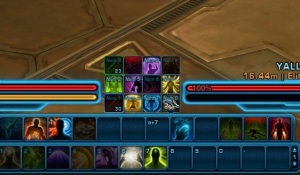 Please send your tips to ootinicast@gmail.com by next Wednesday for a chance to win an M8-R3 code, courtesy of BioWare, and an OotiniCast-provided Cartel Market pack from the latest shipment.
3. Holofeed
4. Community
Thanks to Grim and Scotthomas for their donations!
Community legend Snave (he's kind of a big deal) will be interviewing Eric Musco on his Twitch channel on Wednesday 15 October (7pm BST, 1pm CDT, Thu 5am AEDT). I believe this can be considered essential viewing.
5. Force Feedback
Hru took this picture of one of the new GSI satellites on Makeb:
6. Sarlacc Digest
We discuss the Disciplines system, covered in this developer update and walked through by Eric Musco and David Demaree in a livestream (which was summarised by Dulfy here, and who also provided a breakdown of the new Discipline paths and utilities that were featured for Sorcerers).
7. Outro
Thanks to Justin (@warlordkephess of the Death & Taxes progression guild) and Redna (@R3DN4, twitch.tv/r3dn4) for joining us this week.
Information about our guilds on The Harbinger, Ootini Knights (Republic) and Ootini Rage (Empire), can be found here.
You can email questions and comments about the show to ootinicast@gmail.com. Follow us on Twitter via @OotiniCast. Check out our website, ootinicast.com, which has links to our presence on Google+ and Facebook. You can subscribe to us on iTunes, and listen to us on Stitcher and Spreaker. We record the show live every Wednesday at 4:30pm Pacific, goto ootinicast.com/live to find out how to join in!