Podcast: Play in new window | Download
Subscribe: RSS
In the news we cover The Harbinger's woes and the Community Cantina that was held in Seattle. We then discuss the class changes coming next week in Game Update 2.10.
1. Introduction
2. Tip of the week
Congratulations to this week's winner, Mariarchi! Thanks to Billyando for entering.
Please send your tips to ootinicast@gmail.com by next Wednesday for a chance to win an M8-R3 code, courtesy of BioWare, and an OotiniCast-provided Cartel Market pack from the latest shipment.
3. Holofeed
4. Community
The novel "Star Wars: A New Dawn" by John Jackson Miller, a prequel to the Star Wars Rebels animated series set between Episodes 3 and 4, is now available as a hardback and ebook.
We'd like to shout out to Neekish's guild, the Shadow Guardians on the Republic side of The Harbinger!
Werit, of weritsblog.com, is running a competition he's calling Show Your Stronghold. Find out more here.
Our guild lottery continues!
5. Force Feedback
Chong believes this is the best decoration: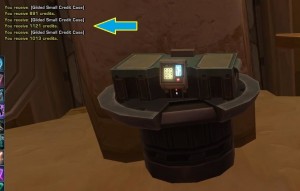 Chong encountered the following strange effect in The False Emperor Flashpoint:
The following gallery of images are from Noedalla's Kass City Apartment, a work in progress:

We also have these images from Giantgina foray into Nightmare Mode GSH!

6. Sarlacc Digest
We discuss the class changes coming up in Game Update 2.10, as communicated through the focused feedback threads on the PTS for Marauder/Sentinel (middle tree), Sniper/Gunslinger (middle tree), Sorcerer/Sage (healing tree) and Assassin/Shadow (middle tree).
7. Outro
Thanks to Redna (@R3DN4, twitch.tv/r3dn4) for joining us this week.
Information about our guilds on The Harbinger, Ootini Knights (Republic) and Ootini Rage (Empire), can be found here.
You can email questions and comments about the show to ootinicast@gmail.com. Follow us on Twitter via @OotiniCast. Check out our website, ootinicast.com, which has links to our presence on Google+ and Facebook. You can subscribe to us on iTunes, and listen to us on Stitcher and Spreaker. We record the show live every Wednesday at 4:30pm Pacific, goto ootinicast.com/live to find out how to join in!