Podcast: Play in new window | Download
Subscribe: RSS
Now that Game Update 2.9 is on the PTS, we discuss our own experiences with Galactic Strongholds and take a spoiler-free look at the new Tactical Flashpoint on Manaan. In our discussion, Marshall Carr talks about the Community Cantina he attended that was held last week in San Diego.
1. Introduction
It's rumoured that R3dn4 may have hacked into Gaddock Teeg's Unnamed SWTOR Podcast! Listen here to see if it's true.
2. Tip of the week
Congratulations to this week's winner, Nepthen (of the Old Republic Dads guild on The Shadowlands)! Thanks to Carnz and Dekion for entering.
If you'd rather not do the puzzle maze on the way to Gate Command Draxus in Dread Fortress the Dulfy way, Carnz suggests an easier route for the tricksy smugglers among us:
At the first 4 crystals have all 4 people click the same crystal on the left hand side. You don't have to click 4 different crystals at this first set. When the gate opens the rest of the operation group take that left hand path only and clear the mobs as they go. Now if you are a 16 man operation then you have heaps of players to get to the Gate Commanders room (you only need 4 people to clear the 4 crystals in his room). In 8 man it might pay to Extricate the person channeling the middle crystal gate so you have at least 4 with you when you get to the inner chamber. When you get there click on the 4 different crystals and all gates will open then the 4 people that channeled in the first room can all go left as well to meet up for the boss fight.
Please send your tips to ootinicast@gmail.com by next Wednesday for a chance to win an M8-R3 code, courtesy of BioWare, and an OotiniCast-provided Cartel Market pack from the latest shipment.
3. Holofeed
4. Community
Kuze's Jawa Joyride is on hiatus until after Game Update 2.9; he hopes to resume on Tuesday 19 August. Let the decoration hunt begin!
The Ootini Templars are looking for more players to join them to do older content for achievements and (always) fun on Wednesdays and Thursdays, 8:30pm AEST.
The Ootini Knights/Rage lottery is on again! Please see Dracko's thread here for details.
5. Force Feedback
We discuss tweets, emails and comments from Mikhael (@hadrian9), Nathaniel Starr, Tex McShootemUp, Jason Rennier, Madmar (@Swtorfamily), @GhostMirror, Ahsh (@Ahsh_13), Aaron (@arn2911), @NepthenORD, Chef Andro (@Andubious), @Jayconnell, @AkaanDarasuum, @DaveO_NewWaveO and Morriah (@RosieBear77).
Last week's Tip of the Week winner Tex McShootemUp obtained this speeder from his winning Club Vertica Nightlife Pack: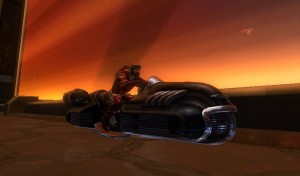 6. Sarlacc Digest
Marshall Carr attended the Community Cantina held in San Diego on Friday 25 July in conjunction with Comic-Con. He describes his experiences there, including the Q&A. You can find the contents of the flash drive given to all attendees here.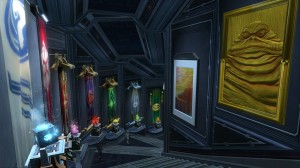 Field Correspondent Osa was once again in attendance too, and wrote up this article for us.
7. Outro
Thanks to Marshall Carr (@DarthPops) and Redna (@R3DN4, twitch.tv/r3dn4) for joining us this week.
Information about our guilds on The Harbinger, Ootini Knights (Republic) and Ootini Rage (Empire), can be found here.
You can email questions and comments about the show to ootinicast@gmail.com. Follow us on Twitter via @OotiniCast. Check out our website, ootinicast.com, which has links to our presence on Google+ and Facebook. You can subscribe to us on iTunes, and listen to us on Stitcher and Spreaker. We record the show live every Wednesday at 4:30pm Pacific, goto ootinicast.com/live to find out how to join in!