Podcast: Play in new window | Download
Subscribe: RSS
We talk about the aftermath of double XP week, a bit of news, and the Sniper/Gunslinger Q&A. In our discussion, the topic is voice comms, where we examine the merits of Mumble, Teamspeak and Ventrilo, and whether in-game voice could be a good idea.
1. Introduction
2. Tip of the week
Congratulations to this week's winner, Mariachismug! Thanks to Maa'ra of the White Legacy (of the Empire guild "Exiled Then Banished" on The Shadowlands), Ferrous Terran, Flesh (Recruit Officer for the Grievance guild on the Republic side of Jedi Covenant), Caligari and Fyonha for entering.
Both Flesh and Caligari suggested ClovisGrid, a simple program that overlays gridlines on one's screen, to help in aligning things when using the in-game Interface Editor.
Please send your tips to ootinicast@gmail.com by next Wednesday for a chance to win an M8-R3 code, courtesy of BioWare, and an OotiniCast-provided Cartel Market pack from the latest shipment.
3. Holofeed
As reported by Dulfy, the Celebration Mishap (rest & regen) item and the First Grand Pet Pack were added to the Cartel Market.
A sharp-eyed Redditor spotted the MANA-D5 Submersible speeder in last week's Galactic Strongholds livestream.
Bounty Contract Week is on again, finishing next Tuesday 15 July (7am CDT, 1pm BST, 10pm AEST).
The latest installment of answers from the class representative initiative, this time for Snipers and Gunslingers, has been made available.
Marshall Carr (@DarthPops) will be at the Community Cantina being held on Friday 25 July in San Diego. If you have questions you'd like Marshall to ask, please email them to us via ootinicast@gmail.com, or tweet Marshall directly.
4. Community
The Flash Point podcast from The Oceanic Gamer has a new format! We highly recommend checking out their antics and distinctly Australian humour.
The SWTOR Escape Pod Cast from last week (episode 45) featured an interview with Machia, their ops leader, who explained what it means to be a Casual Progression raider.
5. Force Feedback
We discuss tweets, emails and comments from Kranitoko, @SWTORApps, Billy-sai, @FerrousTerran, @swtor_miner, Greg Carter, @Ri_kiri, Chong (@EmpireDivider), Morriah, @mustindeth, Road (@ThatRoadGuy), Darth Cathgirl, @GhostMirror and @Chef_Andro.
Red summarises an email discussion between Pez, Nepthen (of the Old Republic Dads) and theorycrafter Oofalong.
Below is Kranitoko's latest Hypercrate opening video, in which he opens 24 Club Vertica Nightlife Packs. The intro is particularly awesome this time!
Here is Chong's Wonder Woman lookalike with what appears to be Superman: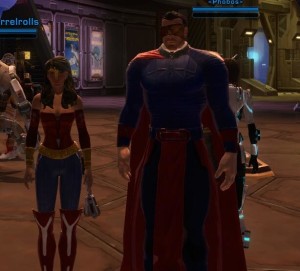 @Ri_kiri referred us to this video titled "SWTOR Short – Log is too Stronk".
Seems that @SWTORApps is busy working on something awesome! Keep your eye on swtorapps.com for this and other cool SWTOR-related stuff.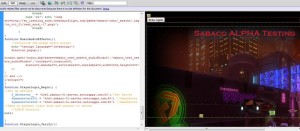 6. Sarlacc Digest
We address GasGuy's topic suggestion regarding voice comms, going into some depth about the major solutions (Mumble, Teamspeak and Ventrilo).
Gerald had emailed us about the possibility of in-game voice, provided directly by the game, and asked us to consider whether it would be suitable for SWTOR.
Our Ootini Knights and Rage guilds share a Mumble server provided by MumbleBoxes. Here is our referral link; you can also get a 20% discount if you use our promo code "JAWA".
7. Outro
Thanks to Redna (@R3DN4, twitch.tv/r3dn4) for joining us this week.
Information about our guilds on The Harbinger, Ootini Knights (Republic) and Ootini Rage (Empire), can be found here.
You can email questions and comments about the show to ootinicast@gmail.com. Follow us on Twitter via @OotiniCast. Check out our website, ootinicast.com, which has links to our presence on Google+ and Facebook. You can subscribe to us on iTunes, and listen to us on Stitcher and Spreaker. We record the show live every Wednesday at 4:30pm Pacific, goto ootinicast.com/live to find out how to join in!