Podcast: Play in new window | Download
Subscribe: RSS
In the news we cover what's coming in Game Update 2.8.1, the Operative/Scoundrel Q&A, and the rumoured SWTOR summer pass. We then present our Bomber roundtable, the third in our Galactic Starfighter series.
1. Introduction
2. Tip of the week and Trivia Question
Congratulations to this week's winner, The Pummeler! Thanks to Fatalspark, Koopa'lach, Nepthen, Tobzors, Marvinheim, AmonRe and Greg for entering.
This week Chill has come up with a trivia question! It has to do with the famous quote that Harrison Ford said while trying to perform the dialog in Star Wars: "George, you can type this sh*t, but you sure as hell can't say it". Of course, in spite of the relative difficulty of the George Lucas dialog, they did mostly stick to the script. But give me three instances throughout the six movies of times when non-scripted dialog did make it into the final movie.
Please send your answers to ootinicast@gmail.com by next Wednesday for two chances to win an M8-R3 code, courtesy of BioWare, and an OotiniCast-provided Cartel Market pack from the latest shipment.
3. Holofeed
4. Community
Our guildmate Aaree has started what has become an extremely interesting thread on our forums about how players choose the names of their characters. Feel free to contribute your own!
The Aurebesh Trainer has been updated to include words from all the movies in the original Star Wars trilogy.
5. Force Feedback
We discuss tweets, emails and comments from Gerald, Oofalong, Terg, @BenB_55, Daekar, Dekion, @GregCarter78, Chong (@EmpireDivider), @Dekarch, @Darklighter159, @Ahsh_13, @darksplat, @FerrousTerran, @NickHall2010 and @TheMalgadar.
Chong and some of his fellow Ootini Templars playing a nice game of Djarik: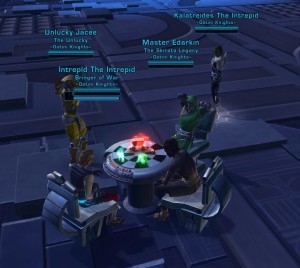 Where is Darklighter?
Greg's captured this amazing image of the two forges on Tython:
6. Sarlacc Digest
This is our third Galactic Starfighter roundtable, covering Bombers.
We highly recommend Anastasie's extremely comprehensive guide for all things GSF. Traitine's site also has a good range of GSF resources.
7. Outro
Thanks to Anastasie (his email is anastasietb@gmail.com, and he plays as Anastasie or Phytia on The Bastion, Dementia on The Ebon Hawk), Dan (@Megadan66), Dunedai (@DunedaiForel) and Redna (@R3DN4, twitch.tv/r3dn4) for joining us this week.
Information about our guilds on The Harbinger, Ootini Knights (Republic) and Ootini Rage (Empire), can be found here.
You can email questions and comments about the show to ootinicast@gmail.com. Follow us on Twitter via @OotiniCast. Check out our website, ootinicast.com, which has links to our presence on Google+ and Facebook. You can subscribe to us on iTunes, and listen to us on Stitcher and Spreaker. We record the show live every Wednesday at 4:30pm Pacific, goto ootinicast.com/live to find out how to join in!