Podcast: Play in new window | Download
Subscribe: RSS
This week we talk about the patches that fixed all the things, and the Community Cantina held in LA last week. In our discussion, veteran pilots Dan and Dunedai return to present the state of Galactic Starfighter.
1. Introduction
2. Tip of the week
Congratulations to this week's winner, Dekion! Thanks to Darksplat, Dunedai, Nepthen, Dekarch and Ludwig for entering.
Ludwig's short video demonstrating his tip may be found here.
Please send your tips to ootinicast@gmail.com by next Wednesday for a chance to win a M8-R3 code, courtesy of BioWare, and an OotiniCast-provided Cartel Market pack from the latest shipment.
3. Holofeed
4. Community
While the Bad Feeling Podcast is one of our favourites, we particularly recommend episode 18, in which Chuck and Brian interview addiction specialist Hannah Milford about the in-game casino introduced to celebrate Soovada.
As a way of helping Ootini Knights and Ragers get to know each other, Zac suggests posting pictures of our pets in this thread on our forum.
5. Force Feedback
We discuss tweets, emails and comments from Caligari (@Caligari_MMO), Carnz, Mytherious, Morriah (@RosieBear77), Gerald, Darklighter (@Darklighter159), Zac (@zacsme), Chong (@EmpireDivider and @Uncle_Chong), @DanCremer, Gary (@wirapidsgamers), Chaz Lobo (@Strongshocker), Krackr (@JediKrackr), Nepthen (@NepthenORD), @GaddockTeeg of the Unnamed SWTOR Podcast, @Kranitoko, @Ahsh_13, Terg (@TheTurg), @Bara_Dur, Genetrix (@akindoffairytale), @Dekarch and Pallais (@wowPiper).
DurtaDurta has translated the following as "Club Vertica Casino". He recommends our Aurebesh Trainer to help you master Aurebesh!

Chaz Lobo found this video that puts the Duel of the Fates into an entirely new perspective!
Darklighter was busy this week taking screenshots! He wonders whether this speeder looks like a frog face:
He believes that the Bounty Hunter starship is giving the Fleet the bird: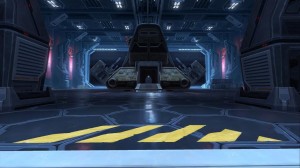 Utilising Corwynn's tip from episode 144 about substantially extending the camera view distance, he came up with the following:
Greg, inspired by Darklighter, came up with this view of Thrasher from Scum & Villainy: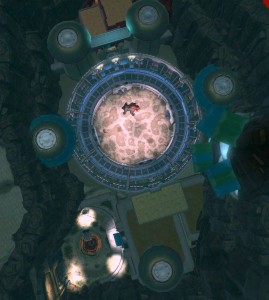 6. Sarlacc Digest
Dan and Dunedai give their opinions on the current state of Galactic Starfighter, along with their impressions of the new Gunship and Bomber variants added in Game Update 2.8.
This link will list our episodes that cover Galactic Starfighter in detail, including the Gunship and Scout roundtables.
7. Outro
Thanks to Dan (@Megadan66), Dunedai (@DunedaiForel) and Redna (@R3DN4, twitch.tv/r3dn4) for joining us this week.
Information about our guilds on The Harbinger, Ootini Knights (Republic) and Ootini Rage (Empire), can be found here.
You can email questions and comments about the show to ootinicast@gmail.com. Follow us on Twitter via @OotiniCast. Check out our website, ootinicast.com, which has links to our presence on Google+ and Facebook. You can subscribe to us on iTunes, and listen to us on Stitcher and Spreaker. We record the show live every Wednesday at 4:30pm Pacific, goto ootinicast.com/live to find out how to join in!