Podcast: Play in new window | Download
Subscribe: RSS
We talk about Game Update 2.8 and its woes in the news. In our discussion, our guildmate Pez describes the community standard for measuring one's DPS, and gives some tips on how to improve it.
1. Introduction
Teo would like to thank both Kuze's platforming video and Aaree for letting him get the Datacron Master title!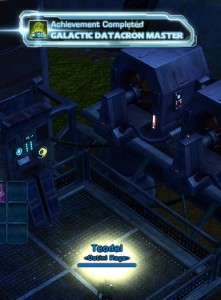 Chill shows the three pets he obtained from Amazon and Target Cartel Coin cards:
2. Tip of the week
Congratulations to this week's winner, Pallais! Thanks to Nepthen (GM of the Old Republic Dads on The Shadowlands), GasGuy, Brian (of the Bad Feeling Podcast), Bara-dur, Carnz and Corwynn for entering.
To enable the Dropbox feature that allows screenshots to be automatically uploaded into one's Dropbox by using [Ctrl][PrintScreen], set the checkbox shown below in your Dropbox preferences:
Please send your tips to ootinicast@gmail.com by next Wednesday for a chance to win a M8-R3 code, courtesy of BioWare, and an OotiniCast-provided Cartel Market pack from the latest shipment.
3. Holofeed
4. Community
Greg of the Ootini Templars sent us the following, showing the group facing off with the apparently harmless (even when engraged) Grimtooth world boss on Makeb: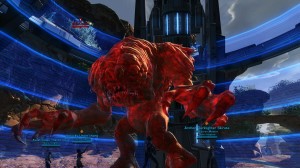 Kuze is looking for more to join in his Jawa Joyride on Wednesday afternoon starting at 4:30pm PDT.
A promising new site, swtorapps.com, has been created by @SWTORApps.
5. Force Feedback
We discuss tweets, emails and comments from DurtaDurta, KillerTrout, @DanCremer, @JediKal, @Bara_Dur, @ShintarCommando, @vayne_verso, Mytherious (@lordnathanial), @nickhholk, Terg (@TheTurg), Chong (@EmpireDivider, @Uncle_Chong), @Dekarch, Carnz, @TheMalgadar and Morriah.
DurtaDurta has discovered that the Jedi ship may have been originally designed to help spaceport builders ensure platforms are straight and level:

Uncle'Chong has a new pet!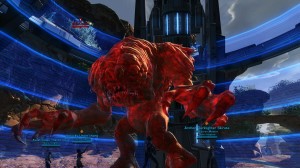 6. Sarlacc Digest
Pez explains how to measure and then improve your DPS using your personal starship's target dummy.
7. Outro
Thanks to Pez (@MyVery0wnFlag) and Redna (@R3DN4, twitch.tv/r3dn4) for joining us this week.
Information about our guilds on The Harbinger, Ootini Knights (Republic) and Ootini Rage (Empire), can be found here.
You can email questions and comments about the show to ootinicast@gmail.com. Follow us on Twitter via @OotiniCast. Check out our website, ootinicast.com, which has links to our presence on Google+ and Facebook. You can subscribe to us on iTunes, and listen to us on Stitcher and Spreaker. We record the show live every Wednesday at 4:30pm Pacific, goto ootinicast.com/live to find out how to join in!