Podcast: Play in new window | Download
Subscribe: RSS
Lots of news this week, including more details about the new Quesh Huttball Pit warzone, the Q&A from the Community Cantina in Atlanta, and the Super Secret Housing Project teaser trailer. In our discussion, Bill is back to provide yet more credit-making advice.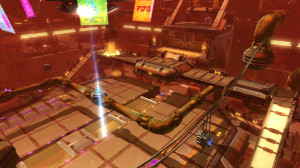 1. Introduction
2. Tip of the week
Congratulations to this week's winner, Socordia!
Please send your tips to ootinicast@gmail.com by next Wednesday for a chance to win a Tawnfaun code, courtesy of BioWare, and an OotiniCast-provided Cartel Market pack from the latest shipment.
3. Holofeed
4. Community
Heather has plenty to say on her Pretty Little Sith blog, including Happiness in Video Games vs. Real Life and My Guild as a Communist Society.
Tim (GasGuy) has updated his Codex Tracking List, a spreadsheet which can be downloaded from the right-hand sidebar on our site, or directly from here.
The OSWguild from The Harbinger, which you can find on YouTube here (follow them on Twitter via @OSWguild) have their latest player guide available, this one on leading a raid.
Long-time friend of the show, Dan O'Brien (@DsanOB) celebrates over 400 followers of his most useful @SWTORTracker feed on Twitter, which publishes links to SWTOR dev posts.
5. Force Feedback
We discuss tweets, emails and comments from @grimrok, @JediKrackr, @Heather_PLS, Shammar (of the Old Republic Dads guild on The Shadowlands), Lachlann Lindsay, @TheMalgadar, @Taldune, @dulfycleric, @Adam_Schumpert, Chong (@EmpireDivider), Jacob (@deltiasgaming), Nathaniel Starr, Graham "Awesome" Sellars, Soulibon and @Enyonix.
Dulfy has published the following image and video showing the Rancor mount, a Tier 1 reward for Ranked PvP Season 1. It's being modelled by our friend Ben (@giant_gina).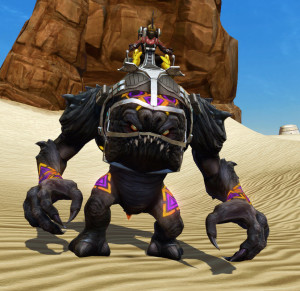 Artist extraordinaire Adam Schumpert eerily foreshadowed the player housing teaser trailer:
Chong provided the following visual demonstration of how many targets are affected by the Kolto Residue left on the ground by a Commando's Kolto Bomb: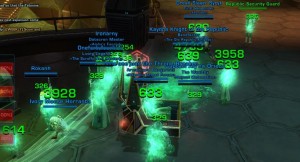 6. Sarlacc Digest
Bill is back with more credit-making advice. This time he covers how to get the most out of dailies, and then answers some listener questions.
7. Outro
Thanks to Bill (@BillLentz) and Redna (@R3DN4, twitch.tv/r3dn4) for joining us this week.
Information about our guilds on The Harbinger, Ootini Knights (Republic) and Ootini Rage (Empire), can be found here.
You can email questions and comments about the show to ootinicast@gmail.com. Follow us on Twitter via @OotiniCast. Check out our website, ootinicast.com, which has links to our presence on Google+ and Facebook. You can subscribe to us on iTunes, and listen to us on Stitcher.