Podcast: Play in new window | Download
Subscribe: RSS
Game Update 2.7: Invasion is now on the PTS; we go over its patch notes, along with the information delivered at the Community Cantina in Atlanta. Then in our second Galactic Starfighter roundtable, we discuss the Scout, with two exceptional pilots from The Bastion.
1. Introduction
Redna provides the following gallery to prove that his Trooper did indeed reach level 55 via playing Galactic Starfighter, without having chosen an Advanced Class.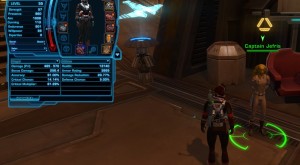 2. Tip of the week
Congratulations to this week's winner, Ryan Keogh!
Please send your tips to ootinicast@gmail.com by next Wednesday for a chance to win a Tawnfaun code, courtesy of BioWare, and an OotiniCast-provided Cartel Market pack from the latest shipment.
3. Holofeed
4. Community
Oofalong of the Chosen guild on Prophecy of the Five server has written the second in his Understanding SWTOR Basics series, being published on Dulfy's site; this article is about understanding tooltips.
5. Force Feedback
We discuss tweets, emails and comments from @TheViszlaLegacy, @TheMalgadar, @Casmas_, @ThePummeler, Dracko, @ben_b55, @Theshadowlegion, @nicknightmoves, Nathaniel Starr and @Jayconnell.
The Shadow Legion guild on Empire-side of The Shadowlands are looking for new members for their story mode 16-man weekly operations group.
6. Sarlacc Digest
Jubbs and Pincer from The Bastion join us to discuss the Scout, providing a wealth of information and tips.
7. Outro
Thanks to Jubbs (@OrdooSkirata), Pincer and Redna (@R3DN4, twitch.tv/r3dn4) for joining us this week.
Information about our guilds on The Harbinger, Ootini Knights (Republic) and Ootini Rage (Empire), can be found here.
You can email questions and comments about the show to ootinicast@gmail.com. Follow us on Twitter via @OotiniCast. Check out our website, ootinicast.com, which has links to our presence on Google+ and Facebook. You can subscribe to us on iTunes, and listen to us on Stitcher and Radio4Gamers.