Podcast: Play in new window | Download
Subscribe: RSS
While there was no news at all this week, our two discussion topics are an analysis of how many players are doing Ranked PvP, and yet another solution to initiating more open world PvP by providing in-game tools for the community to organise it.
1. Introduction
2. Tip of the week
Congratulations to this week's winner, K!
Please send your tips to ootinicast@gmail.com by next Wednesday for a chance to win a Tawnfaun code, courtesy of BioWare, and an OotiniCast-provided Cartel Market pack from the latest shipment.
3. Community
Congratulations to the Ootini Templars for a most successful year! See this forum thread for Kal's report and a collection of screenshots from 2013.
A hearty round of applause for @ben_b55 (of the Despair guild on The Harbinger) for achieving a Prestige score of 19635! It appears he may have pulled slightly ahead of our own Redna (to our collective amazement).
Our Crew Calculator has received a minor update, providing a link that can be copied which stores your current selection of abilities. It's a great way to share your crew composition with others, as well as for your own reference.
Thanks to @MaxTheGrey and @AIESema for mentioning the Crew Calculator in the latest SWTOR Escape Pod Cast (their predictions for 2014 are genius!).
4. Force Feedback
We discuss tweets, emails and comments from @TheMalgadar, @TheTurg (Terg), @masterbearjedi (Raz), @BillLentz, @bytorsnowdog (Snowy), Dunedai, Graham (Awesome) Sellars, @EmpireDivider, @AHlaenxna (Vis), Quin'obi, @FerrousTerran, @thehatfield (Charles Hatfield) and Brian Peters (@fnord3125).
A Star Wars fan's idealised Christmas Tree:

Dunedai had a great idea for obtaining a pair of cost-effective yet extremely cool blasters for your Gunslinger: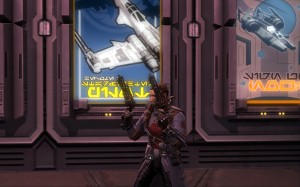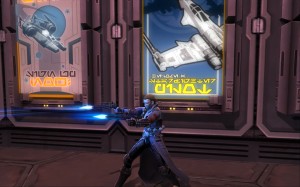 Snowy sent us the scoreboard of an extremely close match of Galactic Starfighter: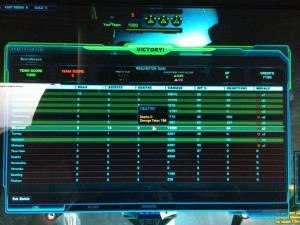 Chong then recalled an even tighter match!

In his email about mechanical keyboards, Brian Peters referenced the Wikipedia article on Keyboard technology and The Mechanical Keyboard Guide on Overclock.net.
5. Sarlacc Digest
The following graphs were referenced during the first part of the discussion:

6. Outro
Thanks to Chong (@EmpireDivider) and Redna (@R3DN4, twitch.tv/r3dn4) for joining us this week.
Information about our guilds on The Harbinger, Ootini Knights (Republic) and Ootini Rage (Empire), can be found here.
You can email questions and comments about the show to ootinicast@gmail.com. Follow us on Twitter via @OotiniCast. Check out our website, ootinicast.com, which has links to our presence on Google+ and Facebook. You can subscribe to us on iTunes and Zune, and listen to us on Stitcher and Radio4Gamers.