Podcast: Play in new window | Download
Subscribe: RSS
Game Update 2.3.2 is here, which includes some wonderful quality-of-life improvements. We also discuss the Community Cantina in Seattle, which was attended by Chill and Redna.
1. Introduction
Thanks to @JediKrackr for providing this most excellent OotiniCast mug for Teo's tea!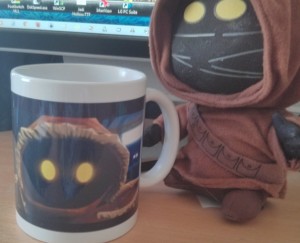 2. Tip of the week
The Excel spreadsheet that @GregCarter78 uses to track which datacrons he's obtained across his various characters is provided here, in case you'd like to adapt it for you own use. Thanks Greg!
Congratulations to this week's winner, Thoss!
Please send your tips to ootinicast@gmail.com by next Wednesday for a chance to win a Tawnfaun code, courtesy of BioWare, and an OotiniCast-provided Cartel Market pack from the latest shipment.
3. Holofeed
4. Community
PJ sent us this screenshot of the Ootini Templars out in force: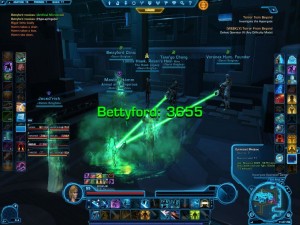 If you have any ideas on what we should do for our fast-approaching episode 100, please post on our forum.
We are still looking for segment names! Feel free to add your own ideas to our forums threads for what is currently known as the Tip of the week and Community Corner.
For those interested in joining Ootini Fight Club for some endgame PvP, please contact Chong by email (empiredivider@gmail.com).
5. Force Feedback
We discuss tweets from @Swtorfamily (be sure to follow him back to join the #swtorfamily!), @nicknightmoves, @TheMalgadar, @JediKrackr, @ForceChuckle, @ChazLobo, @ThePummeler, @Casmas_, @ArrTeaBee, @tweetieowl (Brightstar), @Enyonix, @KairiahMedens (David), @AckaanTalgala, @MichaelWearden and @TheTurg.
Here is @MichaelWearden's rather unfortunate weapon malfunction: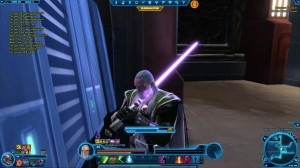 Here is @ThePummeler showing just how hard those smash monkeys can hit in Novarre Coast:
@ArrTeaBee has used his image manipulation skills to create screenshots containing all the characters from his legacy: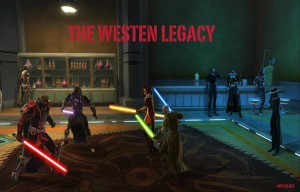 Our guildmate and fellow raider Terg obtained the following most glorious original artwork from Michael Phillips (Durden Art) while attending Burning Man: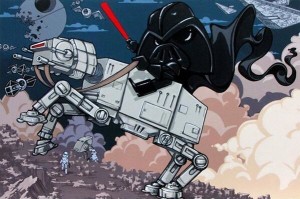 Skilrathos emailed us with his two new rides:
6. Sarlacc Digest
We discuss the Community Cantina held in Seattle, which was attended by Redna and Chill.
Chill has an article in which he covers the Q&As that were held.
All attendees were presented with some swag: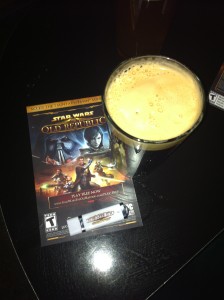 A SWTOR-themed thumbdrive was included, and time it contained a single file, which was a teaser video for the Super Secret Space Project!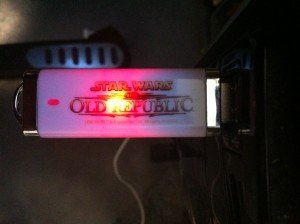 7. Outro
Thanks to Hyp (@Hypknotoad) for joining us this week.
Information about our guilds on The Harbinger, Ootini Knights (Republic) and Ootini Rage (Empire), can be found here. You can email questions and comments about the show to ootinicast@gmail.com.
Follow us on Twitter via @OotiniCast. Check out our website, ootinicast.com, which has links to our presence on Google+ and Facebook. We are a proud member of the TOR Syndicate! You can subscribe to us on iTunes and Zune, and listen to us on Stitcher and Radio4Gamers.