Podcast: Play in new window | Download
Subscribe: RSS
Not too much news this week, though we do have the Rise of the Hutt Cartel digital expansion now being available for free to subscribers! Redna is also back, and provides yet more tidbits from the Community Cantina in Seattle.
1. Introduction
Here is the screenshot that Red mentioned, where his team won The Civil War without the middle turret ever being captured:
Red is also now streaming regularly on Twitch.
2. Tip of the week
Congratulations to this week's winner, ChazLobo! Please send your tips to ootinicast@gmail.com by next Wednesday for a chance to win a Tawnfaun code, courtesy of BioWare, and an OotiniCast-provided Cartel Market pack from the latest shipment.
3. Holofeed
4. Community
Special thanks to our guildmate PJ for providing the funds needed to purchase the fourth Guild Bank tab for Ootini Knights! It has been named the "HRT Closet" in honour of his favourite V8 Supercar racing team, the Holden Racing Team. For those interested in joining Ootini Fight Club for some endgame PvP, please contact Chong by email (empiredivider@gmail.com).
5. Force Feedback
Thanks to Oxi-jin for his most generous comment provided for episode 97. It really brightened our days! In this Reddit post, it's suggested that the following image in CZ-198's Czerka Corporate Labs flashpoint is actually a reference to the Super Secret Space Project:
We discuss tweets from @Swtorfamily (be sure to follow him back to join the #swtorfamily!), @ForceChuckle, @bytorsnowdog (Snowy), @Enyonix, @Telenroidswtor, @FerrousTerran, @eG_acefisher1 (Danny), @AckaanTalgala (Akaan Darasuum), @jeffyjaws, @GregCarter78 and @EmpireDivider (Moff Chong), emails from Awesome Sellars (happy birthday, mate!), Spero and Oryan's Belt, and comments from The Malgadar, Masterbearjedi and Tim (Gasguy192). Snowy's Trooper is back and ready to rumble!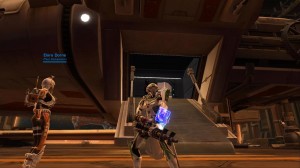 @FerrousTerran recommends The Muppets – Bobo's Star Wars Auditions on YouTube. Chong sent us this screenshot indicating "Corellia has a lot of droid-interpretive-dancing going on":
Chong also found a charming scene involving a SWTOR NPC making a snow wookie. Oryan's Belt recommends that SWTOR introduces the "Pimp" class to incentivise playing the Cathar species:
6. Sarlacc Digest
Redna regales us with his own informational nuggets gleaned from the Community Cantina in Seattle, adding to Chill's detailed coverage.
7. Outro
Thanks to Redna (@R3DN4) and Hyp (@Hypknotoad) for joining us this week.
Information about our guilds on The Harbinger, Ootini Knights (Republic) and Ootini Rage (Empire), can be found here.
You can email questions and comments about the show to ootinicast@gmail.com. Follow us on Twitter via @OotiniCast. Check out our website, ootinicast.com, which has links to our presence on Google+ and Facebook. We are a proud member of the TOR Syndicate! You can subscribe to us on iTunes and Zune, and listen to us on Stitcher and Radio4Gamers.