Podcast: Play in new window | Download
Subscribe: RSS
After covering the light news from this week, we revisit what to expect in Game Update 2.3: Titans of Industry, which is due to arrive on Tuesday!
1. Introduction
2. Tip of the week
Congratulations to this week's winner, Ki'el Over! (Yes, we know.)
3. Holofeed
4. Community
George Lindsesay (@wannabePhD) is hoping to get ranked warzones happening again on The Harbinger on a regular basis. See his thread on the official forums for more information.
Dan O'Brien (@DsanOB) has updated his @SWTORTracker to respond to dev posts more quickly.
For those interested in joining Ootini Fight Club for some endgame PvP, please contact Chong by email (empiredivider@gmail.com).
5. Force Feedback
Thanks to Pathlight for his kind words about the show!
We discuss tweets from @Swtorfamily (be sure to follow him back to join the #swtorfamily!), @Kooz5 (Mark K), @EmpireDivider (Moff Chong), @Casmas_, @GregCarter78, @JediKal, @terencemyers, @banyo1984, @ben_b55, @ForceChuckle, @JediElkatt (Theekatt), @O_JohnnyBravo_O (JB), @HamSammich509, @Kodo (Anthony Harris), @AckaanTalgala (Akaan) and @ChazLobo.
The new Razer Naga MMO gaming mouse is here, including a left-handed version!
The scoreboard from the warzone in which Moff Chong demonstrated his unquestionable prowess: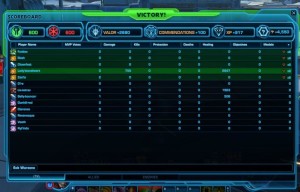 Also, his video, Chong's Thoughts: Voidstar.
6. Sarlacc Digest
Game Update 2.3: Titans of Industry is due to be deployed next Tuesday 6 August. We discuss what it will bring, including:
Change to The Civil War (removal of the speeders that connect directly to snow and grass).

Our first Ewok companion, Treek. Post-recording update: we now know that Treek will cost 2100 CC (with no legacy level requirement) to obtain, as an alternative to legacy level 40 and 1 million credits. In both cases, item obtained can be sold on the GTN (though latter item still requires legacy level 40). Once obtained either way, Treek can be unlocked account-wide via Collections for 700 CC, or per character via legacy for 300,000 credits.
The new daily area on CZ-198, offering new reputation rewards. See Gaddock Teeg's latest PTS videos covering the dailies on his YouTube channel.
Two new level 55 Flashpoints (each supporting hard mode and role-neutral story mode) on CZ-198, Czerka Corporate Labs and Czerka Core Meltdown.
You can find the PTS patch notes here.
7. Outro
Thanks to Redna (@R3DN4) and Hyp (@Hypknotoad) for joining us this week.
Information about our guilds on The Harbinger, Ootini Knights (Republic) and Ootini Rage (Empire), can be found here.
You can email questions and comments about the show to ootinicast@gmail.com. Follow us on Twitter via @OotiniCast. Check out our website, ootinicast.com, which has links to our presence on Google+ and Facebook. We are a proud member of the TOR Syndicate! You can subscribe to us on iTunes and Zune, and listen to us on Stitcher and Radio4Gamers.