Podcast: Play in new window | Download
Subscribe: RSS
We discuss Game Update 2.3: Titans of Industry, which included the unexpected arrival of Tauntaun mounts! There's also CZ-198, with its daily area and two new Flashpoints, and the lovable (?) Treek, our first Ewok companion.
1. Introduction
2. Tip of the week
Congratulations to this week's winner, AmonRe!
3. Trivia question
Chewbacca, lovingly known as Chewie, is the only Wookiee we see in the original trilogy. Yet we know of Wookiees' fearsome fighting reputation from the Holochess match between Chewie and R2. Despite no other Wookiees being around or even named, if you know where to look, in the original trilogy we have proof that one of the characters has met, and in fact killed, several Wookiees. Name the character and how we know. One mild hint: this is the sort of thing that isn't revealed obviously, as in dialogue, but nevertheless is there and was later confirmed and clarified by Lucas.
Please send your answer to ootinicast@gmail.com by next Wednesday. Winners will be put in a draw to win a $5 Cartel Coin gift code, courtesy of BioWare; in addition, if you have a character on The Harbinger, we will also give you a Hutt Skiff courtesy of Moff Chong and a Gamorrean Axe courtesy of Sythar, who requested a question on the subject of the answer to this week's question.
4. Holofeed
5. Community
For an interesting discussion about the making of KOTOR2 (Knights of the Old Republic 2: The Sith Lords) and Obsidian Entertainment's ideas for KOTOR3, listen to Eurogamer Podcast's KOTOR2 post-mortem special. Included in the conversation were two of the developers for the Restored Content Mod, which attempts to complete KOTOR2 which was left in a somewhat unfinished state due to being forced to ship too early.
For those interested in joining Ootini Fight Club for some endgame PvP, please contact Chong by email (empiredivider@gmail.com).
6. Force Feedback
We discuss tweets from @Swtorfamily (be sure to follow him back to join the #swtorfamily!), @hadrian9, @Thoroughmas, @ForceChuckle, @bigfatpj (PJ), @Casmas_, @JediKrackr, @Rrubb, @banyo1984 (Benjamin Becker), @AckaanTalgala (Akaan Darasuum), @Seth_Eldar, @DanCremer, @Dr_Spuddinky, @tweetieowl (Brightstar), @JoshuaLynch125 (Joshua "Codex" Lynch), @heymason12 (Hash), @TheHighJoker (Joe Azzano), @Stormiin (Norm) and @GregCarter78, emails from Nathaniel S, Hansgruber and Stolas, and a comment from Ahnog.
Here's PJ's new Nightscythe: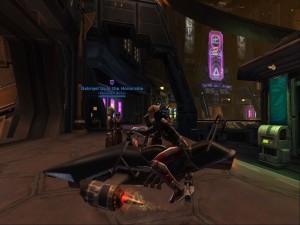 @JediKrack's most unusual (and admittedly kind of cool) 3v3 Huttball: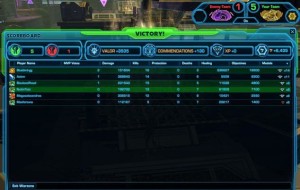 @Rrubb's drunken experience during a very strange Ancient Hypergate: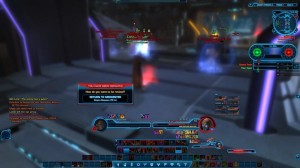 Check out Stolas's (very short) video of what he reckons is the best 1 million credits he ever spent.
7. Sarlacc Mini-digest
While we did not have time in this episode to go into detail about Bounty Contract Week, which starts on Wednesday 14 August, we recommend our own guide authored by Hru, as well as the guides by Mad Sith Assassin and Dulfy.
8. Outro
Thanks to Redna (@R3DN4) and Ham (@HamSammich509) for joining us this week.
Information about our guilds on The Harbinger, Ootini Knights (Republic) and Ootini Rage (Empire), can be found here.
You can email questions and comments about the show to ootinicast@gmail.com. Follow us on Twitter via @OotiniCast. Check out our website, ootinicast.com, which has links to our presence on Google+ and Facebook. We are a proud member of the TOR Syndicate! You can subscribe to us on iTunes and Zune, and listen to us on Stitcher and Radio4Gamers.