Podcast: Play in new window | Download
Subscribe: RSS
Topics this week include Game Update 2.2.3, the Gree's return (updated to level 55!), and the Community Cantina held in San Diego.
1. Introduction
2. Tip of the week
Congratulations to this week's winner, Ham Sammich!
Please send your tips to ootinicast@gmail.com by next Wednesday for a chance to win a $5 Cartel Coin gift code, courtesy of BioWare.
3. Holofeed
Game Update 2.2.3 was deployed during regular maintenance on Tuesday. While this included another fix for the jumping animation (as if one's weapon is drawn), it's still not quite done, and Amber Green is asking for more information on the remaining cases where it occurs.
It also seems that the Cartel Market can now be updated dynamically, with no need for downtime, allowing the Gold Scalene armor and Solus Secant speeder to return for the weekend only, appearing sometime on Friday.
The Cartel Market now offers the Unlimited Content bundle, which contains 5 each of the four different Weekly Passes (Operations, Warzones, Flashpoints and Space Missions). Given that each Weekly Pass is worth 240 CC, the value of what's in the bundle is 4800 CC. At its 50% off price (2650 CC), you're saving 45%. At full price (5300 CC), it's worse value than buying the passes individually.
The Gree are back for two weeks, newly upgraded to level 55. Bolster has been restored to the Western Ice Shelf for levels 50-55. Dulfy has provided a guide for achievements associated with the event, which are now available, accompanying her existing guide to the event.
While hard and nightmare modes currently share a lockout for Operations, Jesse Sky tells us that this is apparently going to be changed sometime in the future.
The raid leader of an Operation can change the loot rules (e.g., to master looter) at any time. This is confirmed to be as intended. Like the management of guild banks, misbehaviour by one's raid leader is thus considered a social issue that BioWare leaves up to us to deal with.
With some vendors, such as the one offering GSI Speeders, while it may seem that you're able to purchase something, it'll fail if the items to trade are in your Cargo Bay.
The PTS has been updated, and character copy is once again available! JD (of the Unnamed SWTOR Podcast) has done a nifty video explaining how to get started on the PTS.
Alex Modny dropped by the forums to tell us a little about warzone arenas, which are coming in Game Update 2.4, including that Baron Deathmark will be returning to commentate! Alex will be doing a blog post going into detail about the arenas, which will be published in a week or two.
It seems that there's an issue with tooltips in warzones, such that they're not initially accurate in terms of displaying the damage dealt. Have no fear, your abilities have been bolstered appropriately. The tooltips will display correctly after you use an ability.
Electronic Arts released their Q1 FY14 financial results on 23 July. During the associated earnings conference call, SWTOR was mentioned several times positively, in terms of being profitable.
In last week's show, JediKrackr mentioned a job posting at BioWare Austin. The role they're after is a "Senior Mobile Producer" to lead "the production of mobile game content and companion applications".
4. Community
It seems that TORParse lives!
Njessi has updated her Sentinel and Marauder Guide, specifically with regard to the middle (Combat/Carnage) skill tree. Definitely worth reading to find out what's new.
We highly recommend Old Republic Radio's interview with Amber Green of the SWTOR Community Team.
If you've ever been interested in the process of data mining, particularly as it pertains to SWTOR, please check out Gaddock Teeg's (JD) interview with the SWTOR sub-Reddit's "swtor_miner" in the latest episode of the Unnamed SWTOR Podcast.
Kuze has let us know he's back to work on his Datacron videos! You can find his existing guides in Kuze's Korner.
For those interested in joining Ootini Fight Club for some endgame PvP, please contact Chong by email (empiredivider@gmail.com).
5. Force Feedback
We discuss tweets from @Swtorfamily (be sure to follow him back to join the #swtorfamily!), @_scoxy (Shawn Cox), @Casmas_, @TheTurg, @ForceChuckle, @DanCremer, @Stormiin (Norm), @ChazLobo, @HamSammich509, @ben_b55, @ThePummeler, @bytedream (Sarah), @JediKal and @EmpireDivider (Moff Chong), and an email from Dan.
@TheTerg provided this YouTube video of the Jedi Academy event held regularly at Disneyland.
@JediKal has found proof that Yoda originated in New Zealand!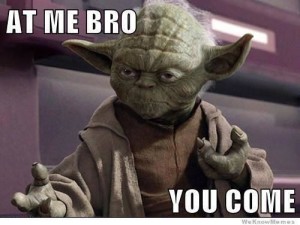 Moff Chong spent the weekend at San Diego Comic-Con, and sent us the following:
6. Sarlacc Digest
Our guildmate Ossa, better known as Ossa of Begeren Colony, was present at the Community Cantina held in San Diego, and subsequently authored a most comprehensive summary of what was revealed.
You can see all the images that were contained on the USB thumb drive in Dulfy's post.
Thanks to Ossa for such marvellous coverage!
7. Outro
Thanks to Redna (@R3DN4) and Hyp (@Hypknotoad) for joining us this week.
Information about our guilds on The Harbinger, Ootini Knights (Republic) and Ootini Rage (Empire), can be found here.
You can email questions and comments about the show to ootinicast@gmail.com. Follow us on Twitter via @OotiniCast. Check out our website, ootinicast.com, which has links to our presence on Google+ and Facebook. We are a proud member of the TOR Syndicate! You can subscribe to us on iTunes and Zune, and listen to us on Stitcher and Radio4Gamers.