Podcast: Play in new window | Download
Subscribe: RSS
We go over this week's news, which includes the deployment of Game Update 2.2.1. In our discussion, Redna talks defensive stats.
1. Introduction
Chill's DPS Operative being transformed into the Joker:
2. Trivia question
Congratulations to this week's winner, Edward F!
We're again looking for game tips. Please send them to ootinicast@gmail.com; if we use yours we'll send you a $5 Cartel Coin code, plus a Taun Fawn (both courtesy of BioWare) if you don't have one.
3. Holofeed
4. Community
Dan O'Brien (@DsanOB) has created a Twitter feed for SWTOR developer posts, which is a great way to keep track of posts without having to check the site. Please subscribe to @SWTORTracker to take advantage of this most excellent resource!
We've also got a homegrown tool (ootinicast.com/mods) for helping you to decide which mods (particularly enhancements!) would best suit the particular stat priority you're looking for.
For those interested in joining Ootini Fight Club for some endgame PvP, please contact Chong by email (empiredivider@gmail.com).
5. Force Feedback
We discuss tweets from @madmar_sith (be sure to follow him back to join the #swtorfamily!), @JediKrackr, @Casmas, @DsanOB, @ThePummeler, @ArrTeaBee, @GrahamMSellars, @mad0racle, @rbleamon (Ray Leamon), @Da_Dirty_Spoons, @voyak, @HawtRepublic (Njessi), @EmpireDivider (Moff Chong), @terencemyers, @Lawilc01, @_Baffle, @joseph_foran, @AfterburnerX, @Geldarion (Drew, co-host of Corellian Run Radio), @masterbearjedi (Raz), @GregCarter78, @oldrepradio, @GrandOldPodcast, @GrahamMSellars and @nigelkersten, emails from Jeshaji and Minn, and a comment from The Malgadar.
A reminder that Njessi's site (hawtpantsrepublic.com) is a most excellent resource for PvE Sentinels and Marauders. She also hosts the Fashion Hall of Shame!
There's also Old Republic Radio, one of the longest-running SWTOR podcasts, now over on MOG Nation(subscribe via iTunes or RSS).
Minn is interested in forming an Empire-side ops group that runs around 8pm EST on Monday nights. If you'd like to participate, please contact Vy'aal (name changed from Minn'Serel, which is what we mentioned on the show) via in-game mail or whisper.
Voyak recommends SWTOR Hell, a YouTube video that is a compilation of in-game footage with appropriate music clips. Out of this seeming chaos emerges something surprisingly funny!
The somewhat unexpected spawn point encountered by @JediKrackr when things were going a little strange on The Harbinger over the double XP weekend: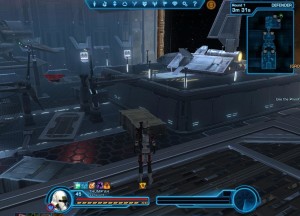 6. Sarlacc Digest
This week, Redna discusses defensive stats.
7. Outro
Thanks to Redna (@R3DN4) and Hyp (@Hypknotoad) for joining us this week.
Information about our guilds on The Harbinger, Ootini Knights (Republic) and Ootini Rage (Empire), can be found here.
You can email questions and comments about the show to ootinicast@gmail.com. Follow us on Twitter via @OotiniCast. Check out our website, ootinicast.com, which has links to our presence on Google+ and Facebook. We are a proud member of the TOR Syndicate! You can subscribe to us on iTunes and Zune, and listen to us on Stitcher and Radio4Gamers.