Podcast: Play in new window | Download
Subscribe: RSS
Chill and Teo are joined by Hyp and Redna to discuss the latest news and our ongoing adventures on Makeb. As many are getting to level 55, we cover the initial steps in gearing up for hard mode Flashpoints and Operations.
1. Introduction
Hyp managed to get the following companion-related achievement while in a warzone. So to maximise your achievement accumulation, ensure you have a companion out before you enter!

He was quite taken with the appearance of the following characters, particularly their helms:
Teo's male lowbie Sorcerer and Hyp's female Sniper (Cyborgyna) in Ancient Hypergate, in the state of undress that became advisable with the (now fixed) naked bug.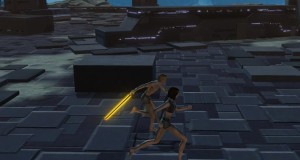 Hyp's Scoundrel, Pearlneck, looking… larger than life.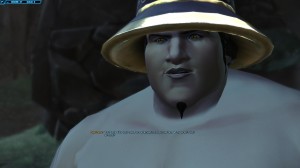 A little scenery from Makeb: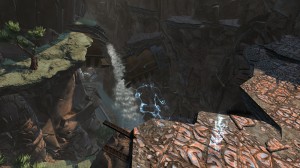 Hyp would love to get his hands on this pet, a miniature Star Destroyer: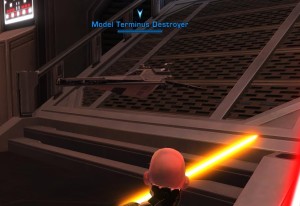 Finally, some pictures of everyone's favourite, Baldygina.
2. Trivia Question
This week's questions is a "Who am I?" I have been credited on all six episodes of the Star Wars movies. I am also credited on all four Indiana Jones movies, even the one that shall not be named. I am credited on a Pixar movie. And I am credited on Star Wars: Knights of the Old Republic 1 and 2. Though I am not credited in SWTOR, my influence is clear as a bell.  Who am I?
Please send your answer to ootinicast@gmail.com. Correct answers by next Wednesday will be put in a drawing to win a Taun Fawn code courtesy of BioWare and one of the latest full-size Cartel Packs.
3. The Holofeed
4. Community
If you have a Sith Assassin (or a Jedi Shadow), we recommend Mad Sith Assassin.
You can find Lance Cadiz regularly live-streaming his adventures at jediconsular.tv.
Megan (@StoleTarts) has written a review of the Rise of the Hutt Cartel expansion.
If you are interested in some serious roleplaying, we recommend you join Clan Epsis, on the Jung Ma server (US east coast RP/PvP).
Finally, in Kuze's Korner, Datacron videos for all the starting planets will soon be available.
5. Force Feedback
We discuss tweets from @madmar_sith (be sure to follow him back to join the #swtorfamily!), @GregCarter78 (Greg Carter), @woutergrys, @Geldarion (co-host of Corellian Run Radio), @AspisVodox, @joseph_foran, @TheTurg (Terg), @JediKrackr, @terencemyers, @masterbearjedi (Raz), @ForceChuckle, @roguish98 (Matt Roberts), @rbleamon (Ray Leamon), @EmpireDivider (Chong), @Dimbo56 (SWTOR Mayor), @hadrian9 (Mikhael Lombard), and emails from Quaza Impsbane, Rose and Baffle.
Greg Carter suggests the following rules for the OotiniCast Drinking Game. Please feel free to send us your additions. While listening to the show, anytime one of the following happens, take a drink!
Hyp requests BioWare give him/everyone Cartel Coin compensation

Red has some sort of in-game bug
Hyp requests day/night cycles or starship/fighter inertia
Teo responds to one of Hyp's suggestions with "Yeah… not gonna happen" (or just "Yeah" and moves on)
Hyp refers to Makeb as some kind of scab
Anyone says "Super Secret Space Project"
Chill skips the Sarlacc Digest
Red complains about the Inquisitor storyline
Teo makes a correct prediction for a patch date
Ray Leamon refers us to Dulfy's SWTOR Dreadseed and Star Forager armor locations guide, to help you obtain these sets using your Seeker Droid.
@JediKrack's visual guide to the Priority Transport Terminal outside each class's hangar on the Fleet: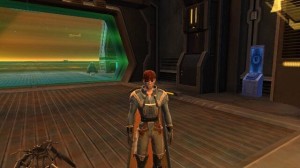 Chong is quite taken with the helmet which appears to be just a toothpick!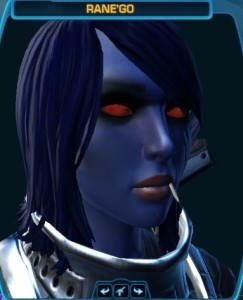 As discussed in the show, you can now find Hyp's Marauder, Baldygina, on Twitter.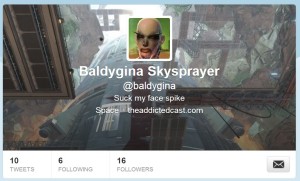 6. Sarlacc Digest
Using Dulfy's most excellent SWTOR Level 55 endgame gearing guide, we discuss the initial stages of gearing for characters that have got to level 55.
7. Outro
Thanks to Redna (@RystoJ) and Hyp (@Hypknotoad) for joining us this week.
Information about our guilds on The Harbinger, Ootini Knights (Republic) and Ootini Rage (Empire), can be found here.
You can email questions and comments about the show to ootinicast@gmail.com. Follow us on Twitter via @OotiniCast. Check out our website, ootinicast.com, which has links to our presence on Google+ and Facebook. We are a proud member of the TOR Syndicate! You can subscribe to us on iTunes and Zune, and listen to us on Stitcher and Radio Paragon.