Podcast: Play in new window | Download
Subscribe: RSS
This week we discuss the closure of LucasArts, the latest SWTOR news, and James Ohlen's presentation at GDC. We also provide some advice on how best to prepare for Game Update 2.0!
1. Introduction
Hyp provided some pictures for us to discuss. The first is his Sniper, Cyborgina, looking surprisingly demure: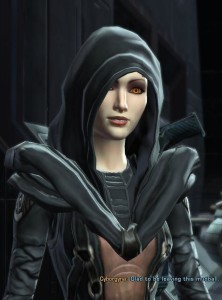 In stark contrast we have Baldy. Oh, Hyp.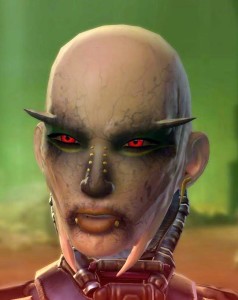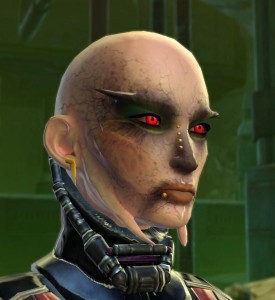 Finally, the context menu for the shuttle door in an orbital station which caused Hyp some amount of frustration in terms of the ordering of the options: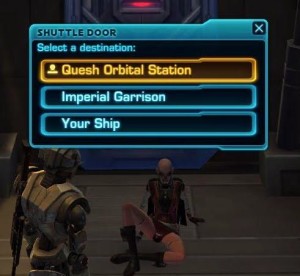 2. Trivia Question
There are many artists involved in the making of the Star Wars movies, but some of them are also famous outside the movies as well. I'm going to name a few of them, in what I think is easiest to hardest order, and you tell me how they influenced Star Wars, or how they were involved with Star Wars. It sort of starts easier with those who were directly involved, and ends up with the influencers:
Please send your answer to ootinicast@gmail.com. The prize this week is Benjamin's Bodacious Booty, donated by our guildmate Benjamin CC to celebrate the release of the Rise of the Hutt Cartel next week!
3. The Holofeed
4. Community
Chill interviewed Damion Shubert in Episode 73.
If you're after a guild on the Republic side of the Shadowlands (east coast PvE) server, check out Jeddit, the official guild of the SWTOR subreddit.
@madmar_sith (be sure to follow him back to join the #swtorfamily!) is maintaining a list of SWTOR podcasts.
We have two installment's of "Raise Your Glass" (new and original segment name coming soon):
Ham Sammich: So this week mainly just worked on my Mercenary, going from level 25 to 36. I'm loving the survivability he has and as a PvP toon he's a lot of fun. Had a really crazy Voidstar warzone this week. Typically when you're guarding the doors most teams buff and stand ready. I came across a PvP team who staggered on top of each other like they do automatically when you spawn into a wz. To say the least it was a huge advantage as what looked like one man ended up being five; some were stealthed anyway but still a sight to see; I had to relay this on as a great mechanic to try sometime!
Hru: I've now completed all 8 class stories and all 40 companion stories, and now have 11 toons at level 50, nine on The Harbinger and two on Red Eclipse… all done solo, of course, and without spending any real world money on Cartel Coins for exceptional boosts.
Our friend and guildmate Kuze has joined the OotiniCast crew with the first installment of Kuze's Korner in this week's show. He's also provided two video guides for the Datacrons that you can get on Makeb.
Darth Kenji's next Lesson from the Holocron will be about Jawas. Look for it soon!
5. Force Feedback
We discuss tweets from @qzoid, @terencemyers, @Dimbo56, @ForceChuckle, @masterbearjedi (Raz), @weihanthekidsun (Weihan Sun), @K0h4ku (Amber Green), @BillLentz, @voyak, @ben_b55 (Ben B) and @ChazLobo, and an email from Hru answering a question about moddable vibroknives from @GregCarter (it's sold by Logistics Officer Sy, just inside the main entrance of Dromund Kaas Spaceport, and by Lieutenant Pell, the Specialty Goods vendor who is with the two regular Commendations vendors in the Senate Commercial District on Coruscant).
@Geldarion (co-host of Corellian Run Radio) offers a list of Twitter resources for SWTOR fans: @CorellianRun, @TORWars, @OotiniCast, @ruleoftwocast, @TheRevCast, @realdarthhater and @dulfycleric.
6. Sarlacc Digest
We discuss how best to prepare for Game Update 2.0. We recommend using our Commendation conversion calculator for Game Update 2.0 to help you ensure that you've spent your Commendations and Tionese Crystals such that none are wasted during the conversion on April 9th.
BioWare have finalised the conversion ratios, Commendation weekly caps and maximums, as well as confirming that warzone commendations will be unaffected during the conversion.
In terms of the gear you'll need for questing on Makeb, we believe that Tionese gear (which you can purchase now using the 99 Tionese Commendations obtained from your class's Advanced Gear mission, obtained when reaching level 50) should be sufficient. The new tier of crafting will provide mods for your gear, as well as new equipment, to help upgrade that Tionese as you level up. There are also items which drop from mobs on Makeb and mission rewards, as well as what can be purchased using Planetary Commendations from the (new) Makeb vendor on the Fleet and on Makeb itself.
7. Outro
Thanks to Oni (@Freakin_Ninja), Redna (@RystoJ) and Hyp (@Hypknotoad) for joining us this week.
Information about our guilds on The Harbinger, Ootini Knights (Republic) and Ootini Rage (Empire), can be found here.
You can email questions and comments about the show to ootinicast@gmail.com. Follow us on Twitter via @OotiniCast. Check out our website, ootinicast.com, which has links to our presence on Google+ and Facebook. We are a proud member of the TOR Syndicate! You can subscribe to us on iTunes and Zune, and listen to us on Stitcher and Radio Paragon.