Podcast: Play in new window | Download
Subscribe: RSS
This week is all about the planet Makeb, the centerpiece of the Rise of the Hutt Cartel. We discuss our own experiences with the content on the closed PTS, along with the wealth of material released about the expansion.
1. Introduction
2. Trivia Question
From the several entrants who identified the half-size Darth Vader Bronze Statue for $US18,000 as the most expensive Star Wars merchanise currently available, the randomly chosen winner was Thornwald!
3. The Holofeed
4. Community
Ham Sammich (@HamSammich) had the idea for us to provide a place for listeners to provide an update on their progress in the same, highlighting achievements, goals met, or just cool stuff that happened to them. We would publish this material in our show notes, and occasionally draw attention to particularly noteworthy items as time permitted. To kick things off, Ham provided the following:
This week I just really tried to focus on leveling my Sith Assassin before the expansion is released. I ran the Foundry a couple times with PUGs and got to level 45. I'm still working on rotation a lot; overload seems to make Warmaster's Blade only half extend, so I went ahead and submitted a ticket. Outside of that I reached Legend status with the Contraband Resale Corporation and purchased the ever elusive Aratech Eclipse for 4 certificates and 100k credits. That's about sums it up; see you in space!
If you're interested in participating, just send a paragraph or two to ootinicast@gmail.com.
5. Force Feedback
We discuss tweets from @madmar_sith (be sure to follow him back to join the #swtorfamily!), @rbleamon (Ray Leamon), @Damaging_Rogue (Les), @JediKrackr, @ThePiousPunk, @terencemyers, @GregCarter78, @ForceChuckle and @AlexDGeslin, along with emails from Howard (who we thank for his most generous donation!) and Baffle.
Here is the JK/BH spotted by Ham Sammich: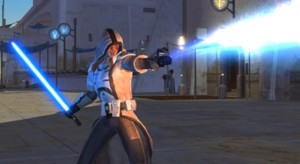 6. Sarlacc Digest
This week has seen a flood of information released from various news and fan sites about Makeb, the new planet being added with the Rise of the Hutt Cartel digital expansion, adding to the material BioWare had already produced.
While we mainly talked about our own impressions, we did cover some of the material included in these articles. But if you want to know it all, here are all of our sources:
Hyp has also captured some images from our time on Makeb, when he and I were questing together. First we have Pearlneck, his Scoundrel healer, with a rather spectacular background: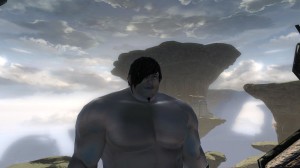 Next, Pearlneck is working some mischief that may involve the light bridge visible in the distance: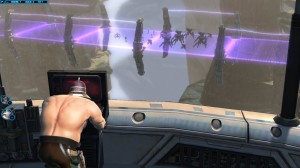 Finally, Pearlneck and my Jedi Guardian, Teol, seem to be rather distressed by a situation they've found themselves in: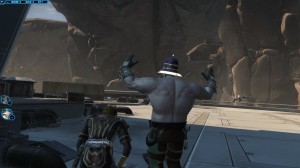 7. Outro
Thanks to Redna (@RystoJ) and Hyp (@Hypknotoad) for joining us this week.
Information about our guilds on The Harbinger, Ootini Knights (Republic) and Ootini Rage (Empire), can be found here.
You can email questions and comments about the show to ootinicast@gmail.com. Follow us on Twitter via @OotiniCast. Check out our website, ootinicast.com, which has links to our presence on Google+ and Facebook. We are a proud member of the TOR Syndicate! You can subscribe to us on iTunes and Zune, and listen to us on Stitcher and Radio Paragon.