Podcast: Play in new window | Download
Subscribe: RSS
We discuss Jeff Hickman's third State of the Game along with other SWTOR news as we prepare for the second double XP weekend on the march to Makeb!
1. Introduction
Hyp is quite taken with his Sniper's starship: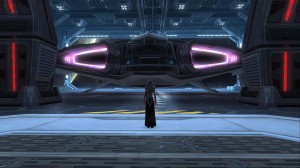 Speaking of his Sniper (Cyborgyna), he's dressed her in surprisingly fetching Jedi robes. Keeping them guessing, you know.
It's getting harder and harder to find Baldy's inner beauty: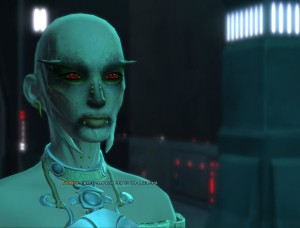 2. Trivia Question
Star Wars has become famous for many things, some of which we have explored in the Trivia Question. But one that we haven't yet touched on is its famous merchandising. There are tens, perhaps hundreds of thousands of items with the Star Wars brand on them. The Star Wars action figures and other toys alone have outgrossed all six movies including re-releases, according to Forbes. And there is clothing, food, and just about everything else out there in the galaxy.
The challenge: find the Star Wars item with the highest non-auction, actual sale price. That is to say, not a one-of-a-kind item put up for auction, like the original Tie Fighter Episode IV model that went for $350,000 or the Panavision camera used to film Episode IV that went for $625,000. So, no auction items. And not an item put up for sale at a crazy price no one would pay. But rather, find an item  that is (or was) for sale to the public with the highest price, and send your answer (please include a link to help me research your answers) to ootinicast@gmail.com.The person who finds the most expensive Star Wars merchandise will win a Tauntaun Fawn code courtesy of BioWare and one of the latest Cartel Packs.
In event of a tie, there will be a random drawing. I have found an item, specifically a Boba Fett item, priced at $US1299.99, so try to beat my score!
3. The Holofeed
4. Community
A reminder that if you want to know some background on those nefarious Hutts—some of it quite surprising—please see Darth Kenji's latest Lesson from the Holocron, "Warlords and Gangsters".
5. Force Feedback
We discuss tweets from @madmar_sith (be sure to follow him back to join the #swtorfamily!), @Bytorsnowdog (Snowy), @MikeG_75 (MikeG) @Jeboneyus (Jared), @rbleamon (Ray Leamon), @HamSammich509, @masterbearjedi (Raz), @DarthKenji (William Keele, author of our Lessons from the Holocron), @weihanthekidsun (Weihan Sun), @Adam_Schumpert, @Kingkornholio, @_Baffle6h (Baffle), @ForceChuckle, @Mal_Kizdek_14h (Shammar) and @Thoroughmas12m (Thomas Midena), and an email from Quaza.
You can see a slightly out-of-date spec for Chill's PvP Powertech here.
Here's Darth Wantsom, the creation of @HamSammich509 inspired by The Harbinger's downtime:
6. Outro
Thanks to Redna (@RystoJ) and Hyp (@Hypknotoad) for joining us this week.
Information about our guilds on The Harbinger, Ootini Knights (Republic) and Ootini Rage (Empire), can be found here.
You can email questions and comments about the show to ootinicast@gmail.com. Follow us on Twitter via @OotiniCast. Check out our website, ootinicast.com, which has links to our presence on Google+ and Facebook. We are a proud member of the TOR Syndicate! You can subscribe to us on iTunes and Zune, and listen to us on Stitcher and Radio Paragon.